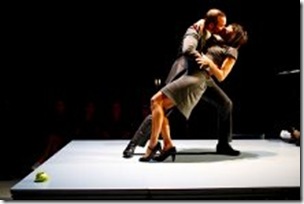 Photo: Jay Kopinski
The Ugly One" by German playwright Marius von Mayenburg and translated by Maja Zade is billed as a black comedy, and rightly so. Lette is a successful engineer who happens to be so ugly that his wife can only look at his left eye. They have what they call an "acoustic relationship." Lette has his face reconstructed by a plastic surgeon and emerges charismatically handsome. The play deals with image, identity and perception. It also raises questions about today's celebrity culture, so often based only on image. Exactly who are the Kardashians and why should we care?
Set and Costume designer Camellia Koo has done a splendid job. The spare futuristic set consists largely of a metal rectangular table with the audience seated only on two sides facing each other. The long table functions as a stage, a speaker's platform and an operating table with the four actors moving from it to the floor and in and out of the front row of the audience. There are also a couple of mirrors and a rectangle of fluorescent tubes over the table. Her costumes are equally simple and allow the actors to switch characters using only body language and voice.
Jason Hand's lighting is very good, especially the various mirror effects. The sound and stark music by John Gzowski are remarkably effective and almost become a fifth character. The onstage sound effects during the plastic surgery are hilariously grizzly.
This is quite a cast. They're able to change characters with no masks or props – just good acting. Jesse Aaron Dwyre is excellent as Karlmann, Lette's overly ambitious assistant and even more so as the rich old lady's spoiled and degenerate son. Tracy Michailidis does a fine job as Fanny, Lette's wife, and her contortions to avoid looking at him are very funny. The body language and posture she brings to the rich old lady tell us everything we need to know about the character.
As Scheffler, Lette's boss, Hardee T. Lineham paints a perfect picture of an unscrupulous CEO, concerned only with image in the sale of his product. The product, by the way, is the 2CK connector, so there's discussion of various plugs and sockets leading to some entertaining double entendre. He's also very good as the surgeon, giving the character just the right touches of venality and madness.
Alex Poch- Goldin gives a fine and many layered performance as Lette. We're given a hint of what's to come when the bandages from his surgery, (cleverly done with a stocking mask), come off. He says, "Are you sure this is me?" We see the core of the character disintegrate as the self becomes only the superficial image.
Director Ashlie Corcoran has directed her third production of "The Ugly One" with a sure hand. I know that staging with this audience configuration is difficult, having played on a stage like this myself. She keeps the action fluid, seamlessly moving the actors on and off the table and in and out of the audience. Along with her creative team and fine cast she's put together a powerful production.
"The Ugly One" is an edgy and thought-provoking play with bright flashes of very black humor. I should probably mention that the sexual content isn't suitable for children. There are a lot of ideas packed into the one hour running time and it's certainly a play that makes us think.
"The Ugly One" in the Firehall at 1000 Islands Playhouse through Sept. 20 tkts: 613-382-7020
produced by the 1000 Islands Playhouse in association with Theatre Smash & Tarragon Theatre
A play by  Marius von Mayenburg, translated by Maja Zade
CREATIVE TEAM
Director: Ashlie Corcoran
Set & Costumes: Camellia Koo
Sound: John Gzowski
Lighting: Jason Hand
CAST
Karlmann (assistant, rich old lady's son): Jesse Aaron Dwyre
Scheffler (Lette's boss, surgeon): Hardee T. Lineham
Fanny (Lette's wife, nurse, rich old lady): Tracy Michailidis
Lette: Alex Poch-Goldin