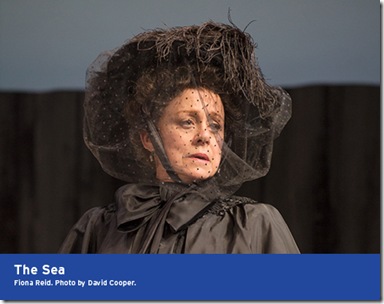 Fiona Reid in The Sea. Photo: David Cooper.
NIAGARA-ON-THE-LAKE, Ont.  —   Edward Bond's The Sea is perhaps the most personal play he ever wrote in terms of its relationship to his own life, and it's certainly his most accessible.
But as the Shaw Festival's sterling new production of this 41-year-old piece reminds us, it's also a strange and beguiling fable, set a century ago in an East Anglian seaside village and turning its sights on two favorite Bond preoccupations — class and social disorder.
It can seem discordant in performance. The play can touch you to the heart at one moment — witness the poignancy with which its two young protagonists, beautifully played by Wade Bogert-O'Brien and Julia Course, experience a shared loss from a tragic death and also a shared yearning for escape from a repressive environment. Yet, within the compass of this same play, you'll encounter a funeral service that degenerates into surrealistic farce.
It takes an astute director to find seamlessness in such a apparently unruly dramatic weave. Eda Holmes possesses such a gift. She doesn't want to tame The Sea's restless poetry — to do that would be fateful. It's more that she wants to protect it. She keeps us convinced that, in the strange Edwardian world of this play, anything can happen.
Holmes displays her credentials immediately. Undaunted by the restrictions posed by the Court House Theatre, she conjures up a storm scene so exciting that you're left speculating about what she might do if turned loose on Shakespeare's The Tempest. It may be smoke and mirrors but Holmes and designers Kevin LaMotte (lighting) and John Gzowski (sound) know what it takes to make it work.
A fine cast helps Holmes bring off a succession of superbly executed scenes. The most memorable involve Patrick Galligan, outstanding as a humble draper descending into madness. What's driving him to this condition? Well, you take your pick. On the one hand, there's his nocturnal prowling in search of aliens who are stealing people's brains — yet in the weird universe of this play, who is to say that he isn't right? On the other hand, there is his vicious treatment at the hands of Mrs. Rafi, the local matriarch, played with a majestic, plummy-voiced sense of entitlement by Fiona Reid; when she flippantly rejects the expensive rolls of velvet he has spent his last shilling ordering for her, Hatch sees his livelihood destroyed. For old left-winger Bond, such casual cruelty represents class and capital at their most monstrous — and it supplies perhaps the production with some intensely felt moments.
There's a rueful tone to the evening, one that even permeates the glimmerings of optimism at the end. The Sea evokes an elusive something that goes beyond time and place. It compels in its oddity, yet its humanity is unassailable.
As always with this year's Shaw season, the acting is accomplished, and its pleasures spread wide — ranging from the reliable Neil Barclay in a small role as an unctuous vicar to a terrific Peter Millard as a philosophic derelict who lives on the beach.
Message to anyone who cares about good theatre: see this production.
(The Sea continues to Oct. 12. Ticket information at 1 800 511 7429 or shawfest.com)