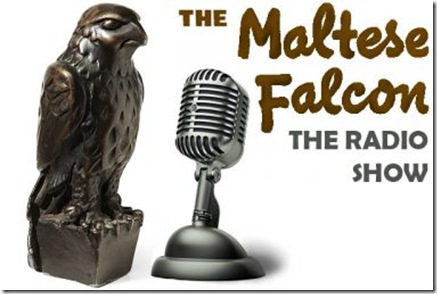 Play poster courtesy of Plosive Theatre
The Radio Play has been a staple of the Gladstone Theatre now for eight years. It is an interesting hybrid of theatre and radio that harkens us back to a simpler time when people would huddle around a box as a family to laugh and cry and listen to stories together.
There have been many different forms of the radio play, which allows the Gladstone to use the same basic set pieces every year with minor alterations in their placement. s Each year the set is familiar but different. That being said it is always CGLD radio; "Radio that makes you glad".
This year director Terri Loretto-Valentik chose to recreate Dashiell Hammett's classic detective story The Maltese Falcon. The detective yarn demands a little more concentration to follow the storyline than more standard holiday fair like Winnie the Pooh or Miracle on 34th Street. The Gladstone Sisters add the nutmeg and cinnamon to create a little seasonal flavour, peppering the interludes with lively period ditties.
It is fitting that the the cast features three staples of CBC radio that add legitimacy to a radio presentation. Their voices are familiar but you normally need to get up at uncivilized hours of the morning to see the faces attached to them on CBC radio's video feed. Doug Hempstead, the traffic guy, does double duty as a voice actor and the sound effects man, so he is kept busy opening and closing doors, firing guns and dropping bodies; but mostly pouring drinks. (it's a PI story baby… we pour a lot of drinks) Hempstead's Joel Cairo has a soft spoken creepiness that adds some tension to the story. The voice was perhaps inspired by the Simpsons' Montgomery Burns.
Laurence Wall's dulcet, sonorous tones provide the narration and inform us about the wondrous attributes of Lux soap. Wall also plays the menacing fat man Kasper Gutman. Wall is decidedly lean of course when not on the radio, but the magic of radio is that you can become whatever weight you need to be. Dave Gerow rounds out the CBC contingent of the cast as Sam Spade the wise cracking hard nosed detective and of course in any good Dashiel Hammet yarn there has to be a babe to confound things. Michelle LeBlanc as Ruth Wonderly does some of the best physical comedy you can see on radio and Katie Bunting is very effective as various henchmen, secretaries and sundry characters.
Although the story changes every year and some of the voices, you always have the Gladstone Sisters moving things along and providing ambiance and musical interludes. This year's trio was made up of Robin Hodge, Robin Guy and Nicole Milne. They sang some lovely, jazzy little tunes and some festive numbers as well. The sisters also doubled as delighted housewives excited by the results of cleaning with Lux soap.
I don't know that this was my favourite year of the Radio play, but the annual tradition has definitely become what it aspires to emulate, a gathering of friends and family. That has never been more evident than this year. Earlier this year, the original Gladstone sister, Lori Jean Hodge passed too early. This show and a new piano are dedicated to her memory. The genuine heartfelt comments of director Terri Loretto Valentik were truly moving even to those in the house that did not know her. The performance fittingly ended with the playing of a song written by Ms. Hodge just weeks before her life ended that was filled with spirit and hope. The play was over but it was clear that the love and the memories would linger long into the night and beyond. Thank you Lori Jean. Thank you Gladstone . See you next year.
The Maltese Falcon runs until December 17.