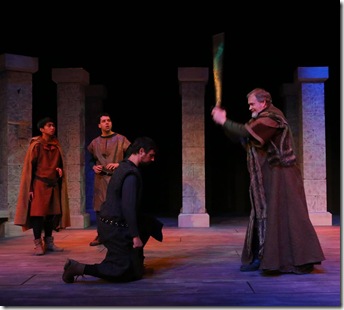 Photo: Wendy Wagner
The Lion in Winter began with a whimper rather than a bang, lasting for fewer than 100 performances on Broadway. Its future looked up when it headed for the silver screen with Katherine Hepburn in the role of Eleanor of Aquitaine.
But a recent West End revival was described as "Broadway hokum" by Michael Billington of The Guardian. Charles Spencer of The Daily Telegraph was a little more positive in talking of it as "historical hokum but high class hokum much funnier on stage than in the overblown film."
Set up to portray the ultimate dysfunctional family, James Goldman's script throws in the odd tender moment in his portrayal of the love/hate relationships between King Henry II, his wife, Eleanor, their three sons, Richard, Geoffrey and John and Alais, the sister of Philip, King of France. She was betrothed to Richard as a child, raised by Eleanor and is now Henry's mistress.
Henry wants the throne to pass to his youngest son, John. Eleanor favours the oldest, Richard. Geoffrey plots and schemes to outwit his parents and his brothers. Alais complains about being a pawn in the royal game of chess.
Meanwhile, the playwright delivers an anachronistic, wordy play (in the vein of Edward Albee's Who's Afraid of Virginia Woolf? but a very distant cousin in terms of quality) that uses historical events as a jumping off point, apparently caring very little about historical truth. For example, the decorated Christmas tree originated in Germany during the Renaissance and was adopted in England during Queen Victoria's reign. It does not make historical sense to include it in Chinon, France in 1183.
In the Kanata Theatre production, director Jim Holmes joins Goldman in celebrating anachronisms by including excerpts from Louis Armstrong recordings — one of my favourite artists, but out of place here — while maintaining period costumes (well executed by designer Kathryn Clarke) and using costumed set changers to keep things moving.
With the uncertainty created by the on-again/off-again approach to history, it is little wonder that Dale MacEachern seems somewhat tentative as King Henry II, less of the regal, roaring lion and more of the wary, cunning fox.
As Eleanor, Kim Strauss delivers a strong, well-controlled performance, periodically seeming amused and slightly removed from the whirl of intrigue around her — despite being part of it.
As the three princes, Marko Pilic is retiring rather than lionhearted as Richard, Shane Bouchard is constantly smiling as the scheming Geoffrey and Carl Cachero throws one tantrum after another as John. As Alais, Emily Walsh is appropriately petulant, while James Renaud is suitably supercilious as King Philip of France.
The production speaks of considerable effort, but, too often, the irritants in the material hamper the result.
The Kanata Theatre production of The Lion in Winter continues to April 4.
The Lion in Winter
By James Goldman
Kanata Theatre
Director: Jim Holmes
Set: Jim Holmes, Jim Clarke, Les Horn
Lighting: Cameron MacDonald
Sound: Martin Weeden
Costumes: Kathryn Clarke
Cast:
Henry II……………………………………….Dale MacEachern
Alais…………………………………………..Emily Walsh
John……………………………………………Carl Cachero
Geoffrey……………………………………….Shane Bouchard
Richard………………………………………..Marko Pilic
Eleanor………………………………………..Kim Strauss
Philip………………………………………….James Renaud
House servants……………………