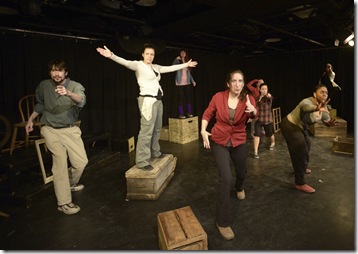 Photo. Andrew Alexander
Minutes after the lights go down in the Ottawa Theatre School's small studio theatre, a cow is milked on stage. Well, not literally, But our disbelief is put on hold as an enterprising bunch of graduate students assemble themselves into the essential shapes of the cow and its milker while also providing some appropriate moos as part of the background noise.
Given that seconds, before some of these same students have twisted themselves into the shapes of clucking chickens, you're already getting solid evidence that anything is possible on a bare playing area whose occupants include nine impressively versatile young performers and a few simple props.
A couple of points need to be made about this 75-minute evening of rural entertainment. The first is that The Farm Show provides a worthy reminder of the richness and diversity of Canada's theatrical history. It's 40 years since Toronto"s Theatre Passe Muraille created this classic of collective theatre. Taking a leaf from the example of New York's radical Living Theatre, artistic director Paul Thompson took a group of actors to Southwestern Ontario — to the farming country around Clinton — for the purpose of immersing themselves in the local culture. They lived and worked with the farmers, and took on the collective responsibility of creating a play about these experiences. They gave their first public performances in a barn — and found themselves with such a big hit that they ended up touring.
The early 1970s spawned an adventurous phase in Canadian theatre, and The Farm Show's success was certainly a huge influence in the emergence of a lively alternative theatre movement which captured the the imagination of the public of the day. So, given the safe and sedate nature of so much of today's theatre programming, we can only welcome this remembrance of things past.
Director Andy Massingham's OTC revival has trimmed the original material somewhat, but the cherished set pieces remain. For example, a robust gospel meeting; an account of a day of baling hay which leaves the viewer almost as exhausted as the actor energetically reprising that ordeal; and a memorable ode to John Deere farming equipment.
It would be unfair to single out any one performer. But do take note of their names: Alis Rainer, Alexis Scott, Holly Griffith, Karina Milech, Nick Fournier, Tifanni Kenny, Dilys Ayafor, Hannah Gibson-Fraser and Alyssa Gosselin. All perform with spirit, imagination and engaging versatility — as adept at portraying an elderly bent-over grandmother or fast-talking auctioneer or tic-ridden rustic as they are at imitating a washing machine.
And when they give us their robust take on Turkey In The Straw, it's like being drawn into a celebration.
The Farm Show is a seamless blending of fact and folk-lore, in which a tall tale can confidently share the stage with more sobering statistics on the economics of farming. This OTS revival may be rough-edged at times — so was the original — but it has enormous vitality, thanks to Massingham's vigourous direction and the responsiveness of the cast. More to the point, it re-asserts its merits as a marvellous ensemble piece — exactly the sort of material to test the mettle of young performers. They pass with flying colours.
THE FARM SHOW: A Collective Creation by Theatre Passe Muraille
Ottawa Theatre School, 294 Picton Ave., April 22 to 27, 8 p.m. Tickets at ottawatheatreschool.com
Director . . . . Andy Massingham
Assistant Director . . . . .Jodi Morden
Lighting . . . . .John Solman
Alis Rainer . . . . . . .Janet, Robba Lobb, Jim, Daisie, Jean Lobb, Narrator
Alexis Scott . . . . . .Wendy Bird, Jane, Jean Lobb, Narrator
Holly Griffith. . . . .Ross Feagan, Sally Bird, Man On Tractor, Mary, Agriking, Narrator
Karina Milech . . . .Lula Merreill, Mrs. Tebbutt, Charlie Wilson, Witness, Narrator
Nick Fournier. . . . .Miles Potter, Herb Oakes, Freedman, Narrator
Tifanni Kenny. . . . .Jack Merrill, Stephen Lobb, Harry Thompson, Announcer, Narrator
Dilys Ayafor. . . . . .Ray Bird, Harry Oakes, Robin Thompson, Les Jervis, Farmall, Narrator
Hannah Gibson
Fraser . . . . . . . . . . Carmen Tebbutt, Betty Feagan, Marion, Narrator
Alyssa Gosselin . . Alma Lobb, William Reuger, Diane Lobb, Narrator