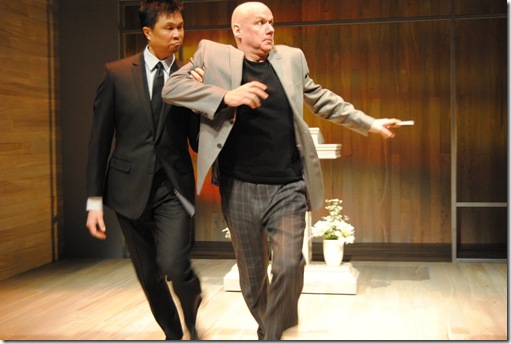 Photo: Barb Gray
There's no denying the pleasure of Andy Massingham's performance in The Best Brothers, the latest offering from GCTC. His portrayal of Kyle, a twitchy gay realtor coping with the aftermath of his mother's death, isn't merely rich in comic detail: it also seeks to anchor it to psychological truth. And if this fine actor doesn't entirely succeed, blame it on the ambushes inherent in Daniel MacIvor's problematic play.
It would be easy for audience members to settle back and simply enjoy Massingham's contribution to the evening as a "performance." His Kyle is a jumble of emotions — anxious, impulsive, street-smart, capable of saying and doing outrageous things. We suspect that something hilariously awful will occur during the deceased's funeral, and Kyle (or, rather, Massingham) doesn't let us down. But even as he turns the moment of eulogy into chaos, Massingham also manages to remind us of Kyle's essential kindness of heart — and his vulnerability.
It's fellow actor John Ng's job to be the essential straight man to all this. Ng is Kyle's anal-retentive older brother, Hamilton. He's an architect by profession — and his passion for form, symmetry and order extend to his private life. It's scarcely surprising that Hamilton's marriage is in trouble. It's even less surprising that his younger brother's unpredictability and irritating readiness to go with the flow drives Hamilton bonkers even when it comes to discussing such serious matters as funeral arrangements. Ng's performance — tight-lipped, buttoned-up, near volcanic at times — is a splendid complement to Kyle's free-wheeling disposition. It's also the reason Massingham can be so funny: he needs somebody to play off.
However, the problem for both actors, as well as for director Eric Coates, is that The Best Brothers is a play with a bit of an identity crisis. This is the second time within a month that Ottawa has seen a Daniel MacIvor play about sibling angst in the wake of a mother's death. The earlier one, Marion Bridge, played the Gladstone, and blatantly stacked the deck in its attempt to explore the emotional crisis facing the three surviving daughters as they sort out their tangled lives and relationships.
The Best Brothers works better as a play than Marion Bridge — but is also more conventional in its effort to reach a wide audience. Again we're dealing with sibling stress, and again MacIvor has designed an arc for his characters, leading them to a conclusion which grants them a renewed life vision and, especially with Hamilton, a new awareness of the freedom that comes from an open-hearted tolerance.
In a sense, the catalyst here is a dog named Enzo. He once belonged to the brothers' deceased mother, Bunny, and what will happen to him is one of the play's running issues. Enzo, whom we never really see, is pivotal to the gentle and affecting scene of reconciliation between the two brothers that brings the production to its close. But Enzo also offers an unfortunate reminder of a script that goes over the top for the sake of a big comic moment. The dog destroys Hamilton's $250,000 kitchen, and while any dog-owner will acknowledge that pets are capable of causing damage in the home, the price tag affixed by MacIvor to Enzo's misbehaviour is not merely excessive — it's preposterous. It's there only as a set-up to ensure that Hamilton has been driven into a simmering fury in time for the funeral.
And yes, the funeral sequence, with the two brothers scrapping in public over the eulogy to Bunny's memory, is outrageously funny under Eric Coates's adroit direction. But it has no real connection to reality or the dramatic truths that MacIvor also seeks to convey.
The crazy excesses keep going beyond the normal sit-com level. It seems that Bunny's death was due to her attendance at a gay pride parade and the moment when a bulky drag queen fell on her off a float. It's perhaps not surprising that Massingham and Ng don't have the opportunity to display a convincing grief over the nature of Bunny's passing: at such moments, the big comic firecracker must prevail.
This is impudent Comedy Network stuff and there's a certain heartlessness here that does not jell with the play's more honest moments. And the sequences where each actor slips on a pair of gloves to deliver a brief monologue as the shade of the deceased smack of clumsy contrivance.
So The Best Brothers is a rather odd hybrid that might have succeeded better had its author thrust himself wholeheartedly into the realm of dark comedy. Nevertheless, thanks to the two performances, Eric Coates's attentive direction, Roger Schultz's appropriately geometric set and Jock Munro's lighting, this GCTC production has more vitality than the play's premiere a couple of seasons back at the Stratford Festival — an event that, incidentally, featured the playwright himself. So the bottom line is that GCTC, despite script deficiencies, is delivering a quality product in terms of production values.
The Best Brothers by Daniel MacIvor
A Great Canadian Theatre Company Production to March 29
Director: Eric Coates
Set Design: Roger Schultz
Lighting: Jock Munro
Kyle: Andy Massingham
Hamilton: John Ng