The Bald Soprano: une mise en scène à repenser.
Reviewed by Alvina Ruprecht
05
Mar
Posted:
March 5, 2014 Wednesday at 6:10 pm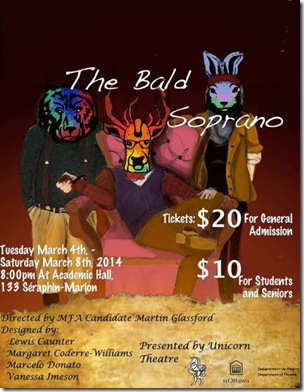 La cantatrice chauve  (The Bald Soprano – traduite par Donald M. Allen) d'Ionesco, une production du Théâtre de la Licorne, est  présentée par les  étudiants  du Département d'études théâtrales à l'Université d'Ottawa. Le metteur en scène, Martin Glassford, étudiant en 4e année du programme MFA, a voulu tout faire sauf écouter le texte. Le rythme traine, les comédiens font tout et n'importe quoi, et l'orchestration de la parole qui est au coeur du spectacle est négligée.  Le décor de Marcelo Donato fonctionne comme il faut,  les costumes de Vanessa Imeson tiennent le coup, l'éclairage de M. Coderre-Williams est efficace, mais de  manière générale le tout est un peu pénible.
The Bald Soprano continue jusqu'au 8 mars, à la Salle Académique, 133, rue Séraphin Marion à 20h00.