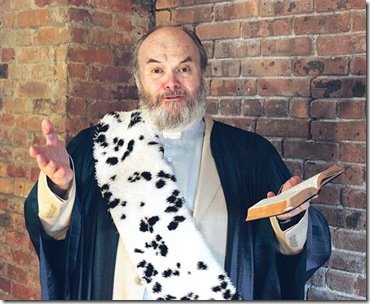 Andy Jones as Tartuffe. Photo: Micaela Morey
The universality of oily evangelists and charlatans comes through loud and clear in the current production of Molière's Tartuffe, "very loosely adapted and even more loosely translated" by Andy Jones of CODCO fame, who also plays the title role — with great glee and to great effect.
The wealthy Orgon is demonstrably as equally easily duped in 1664 in France and in 1939 in Newfoundland. (The stupidity of his obsession is irritating however it is presented, but without his gullibility, Tartuffe could neither triumph nor be exposed as the charlatan he is.)
As adapted by Jones and directed by Jillian Keiley, this version of Tartuffe is fast-paced and funny, while retaining much of the satirical tone of the original and tipping the hat to farce.
The concept works, although the result is sometimes too far over the top for my taste. In addition, some cast members do not enunciate clearly and their lines periodically disappear in a blur.
By contrast, the clarity of Petrina Bromley 's characterization of the all-knowing maid, Dorine, is particularly amusing and believable.
Among the other highlights of the production are the rousing musical moments and Patrick Clark's attractive two-storey set.
And the image of Jones' rubbery and expressive  face remains long after the final curtain call.
Tartuffe continues at the NAC Theatre to November 2, 2013.
By Molière
Adapted by Andy Jones
Co-commissioned by the National Arts Centre/New World Theatre project (Cupids, NL)
NAC English Theatre
Director: Jillian Keiley
Set: Patrick Clark
Lighting: Rebecca Picherack
Costumes: Marie Sharpe
Musical Director: Doreen Taylor-Claxton
Cast:
Orgon…………………………………Joey Tremblay
Madame Pernelle……………………..Quancetia Hamilton
Damis…………………………………Eric Davis
Mariane………………………………..Leah Doz
Dorine…………………………………Petrina Bromley
Flipote…………………………………Eliza-Jane Scott
Elmire………………………………….Christine Brubaker
Cleante…………………………………Dmitry Chepovetsky
Valere………………………………….David Coomber
Tartuffe………………………………..Andy Jones
Leander Loyal…………………………Sheldon Elter…