Take Me Back to Jefferson -Faulkner Lives at the NAC
Take Me Back to Jefferson -Faulkner Lives at the NAC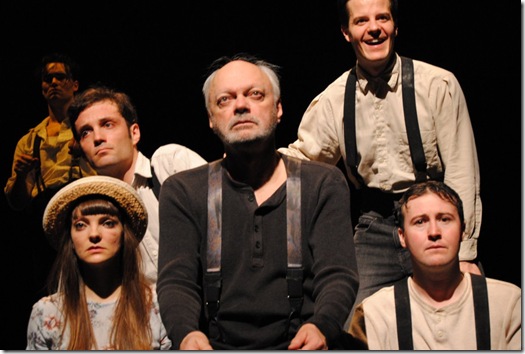 Photo: Barb Gray.
"Take Me Back to Jefferson" adapted by Michele Smith and Dean Gilmour from William Faulkner's novel "As I Lay Dying" gradually draws one in and becomes mesmerizing. Played on a bare stage with minimal props, the cast of seven brings to life Faulkner's gothic tale of a dirt-poor Mississippi family's odyssey to bury their matriarch Addie in her old home.
This is true ensemble theatre and all the actors are both strong and physically accomplished. The patriarch Anse is powerfully played by Dean Gilmour with the slippery ease of an unconscious natural con man and terrific body language. His oldest son Cash, (Dan Watson), provides his own vocal sound effects as he builds his mother's coffin, and we come to believe we see it. Next in line Darl, (Julian De Zotti), holds himself in tight control till he finally snaps. Jewel, (Ben Muir), gives a remarkable performance with his beloved horse as he becomes not only the rider but also the horse.
Dewey Dell, (Nina Gilmour), loves her mother, but understands little of the world outside the family. Vardaman, (Daniel Roberts), the youngest, has an extremely strange imagination and an equally strange idea of life. Addie, (Michelle Smith), finally speaks from the grave and we get a fuller picture of her life. However her thick French accent is an odd contrast with the rest of the cast's southern dialect and a bit difficult to understand.
Teresa Przybylski's costumes are perfect for the period. When an actor plays a character outside the family, the only change is the addition of a false nose. It sounds odd, but it works. Andre Du Toit's lighting is terrific, tightly focused and defining character and location. The old blues music is very effective.
Most of the sound is provided by the actors, but recorded sound is used for acts of nature. We believe in the thunderstorm. We believe we see mules swept away by a river in flood and three brothers almost drowning trying to save their mother's coffin. We see a barn burning while the actors struggle to save the animals. Co-directors Smith and Gilmour and this wonderful company have created a terrific piece of physical theatre. The final picture of this strange, sad and funny family is a memorable one.
I'm not usually a fan of novels adapted for the stage, but this one works. The combination of conversation, monologue and narration is in perfect balance and keeps the piece moving. Not only does it draw you in, it sticks in the mind long after.