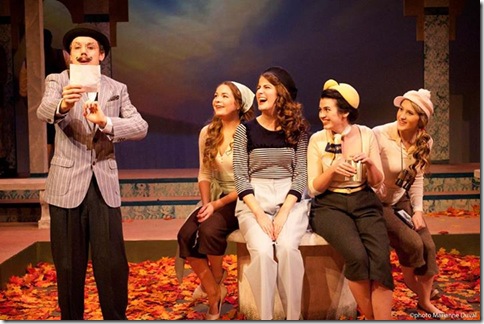 Photo. Marianne Duval.
There's a lovely moment early in the University of Ottawa's production of Love's Labour's Lost when Ryan Young, in the role of an affable rustic named Costard. lopes into view and plunges into some nimble word play involving the words "manner" and "form."
The sequence is a showy indulgence, like so much of this early Shakespearean comedy, but it leaves you in a forgiving mood. An essential requirement of the play is being met: we are getting a delightful fusion of language and character.
It happens again in the scenes involving that fantastical Spaniard, Don Adriano de Armado, portrayed with delicate affectation by an excellent Darcy Smith, and his precocious page, Moth, played with appropriate merriment by Sine Robinson. Language is again the driving force here — with the play's penchant for elaborate and mannered speech being stretched to its extreme here — but Smith remains grounded in his character. Don Adriano may be a parody of the courtly lover, but here it's a genuinely affectionate one