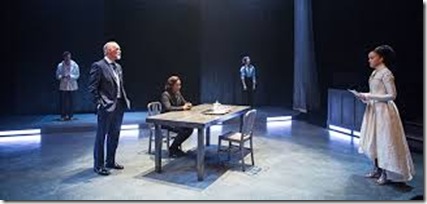 The Virgin Trial. Photo Cylla von Tiedemann
STRATFORD, Ont. — Tudor England in all its drama and turbulence continues to attract a huge following in today's popular culture. From the reign of King Henry Vlll through to the Gloriana days of Elizabeth 1, we've had an unending cycle of popular and academic history, best-selling fiction, movies, television series and stage plays.
It's inevitable that we often get more mythology than history and that the speculative often vies with the factual for our attention. Purists may harrumph about this — will we, for example, ever know for certain the truth about Elizabeth's virginity? But can we deny that, even centuries afterwards, Tudor times remain urgently, irresistibly alive to us?
Part of the explanation must surely lie in the fact that we're dealing with formidable personalities. A couple of years ago, dramatist Kate Hennig showed her awareness of this in her debut play, The Last Wife, which received a sterling production last season at Ottawa's Great Canadian Theatre Company. It focussed on Catherine Parr, Henry Vlll's last Queen and a lady who — given the history of her predecessors — showed an impressive capacity for survival. Hennig's evocation of the dying days of a tyrant's reign was aflame with dramatic tension, but it was the play's status as a richly realized character piece that gave it the momentum it needed. And it compelled us to give our full attention to the complex personalities of the key players — not just Henry and Catherine, but also Henry's two very bright but psychologically different daughters, Mary and Elizabeth, as well as that shady but charming opportunist Thomas Seymour who would marry the widowed Catherine and also pursue some kind of relationship with the young Elizabeth, a relationship whose very nature has kept us guessing for centuries.