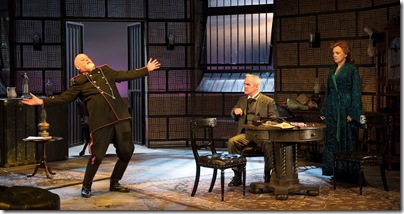 Photo: Emily Cooper.
There's a peculiar moment in the Shaw Festival's production of The Dance Of Death when a character arrives on stage carrying a head of cabbage.
But that moment has purpose. And it does have a connection to the emotional mayhem engulfing the stage. It's also a reminder of director Martha Henry's crafty approach to this potentially troublesome play. Given its volatile sensibility, why not introduce an an element of absurdity into a dramatic situation mired in marital discord? But no — perhaps "discord" doesn't really describe the scalding enmity existing between Edgar, this perpetually soured artillery captain, and his resentful spouse, Alice, on the eve of their silver wedding anniversary.