Guest critic Jim Murchison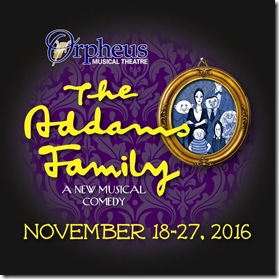 Photo, courtesy of Orpheus Musical Theatre
The original creator of The Addams Family, Charles Addams could likely not have imagined the long lasting effect he would have on popular culture when he inked his first drawing for the New Yorker in 1938. Countless reincarnations in TV, animation and film have allowed these characters to endure into the 21st century.
The musical version written by Marshall Brickman and Rick Elice, with music and lyrics by Andrew Lippa is a well crafted tale of love discovered, love lost and love regained that has been a favourite theme since civilization first picked up a pen, a quill or a rock and started writing. This isn't heavy stuff. It is quintessential entertainment, the perfect antidote for the post election blues and although the play is about an eccentric, wealthy American family living in New York there are no other frightening similarities to the first family elect. They're a little macabre to be sure, but generally loving.
The front curtain for this production is a drop of portraits of the Addams' framed by cobwebs. When it lifts, it reveals a gnarly old tree stage right stretching its craggy limbs over a dark gated cemetery as if ready to pluck someone up and toss them towards the gorgeous full moon.