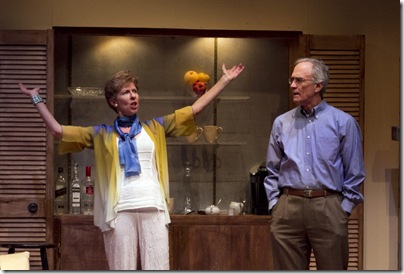 Photo. Maria Vartanova
"Write about what you know."
Following the advice regularly given to authors, the daughter of the wealthy Wyeth family is about to publish unpleasant truths about their past. This is the catalyst for the wrenching conflicts in Jon Robin Baitz' carefully wrought family drama, Other Desert Cities.
While Brooke's tell-all memoir is her view of the past and the tragedy that continues to haunt each of the family members, "divergent truths" and different perspectives throw unexpected lights on their history and the current crisis that threatens to tear them apart.
Parents Polly and Lyman Wyeth are former Hollywood movie industry stars, turned politicos and hard-core Republicans. Daughter Brooke is a successful author at the other end of the political spectrum, still fragile after recovering from severe depression. Her younger brother Trip is a television producer trying hard to keep the peace and avoid a serious look at the world. Polly's sister, Silda, an alcoholic, fresh from rehab, is continuing her recovery by moving into the Wyeth household.