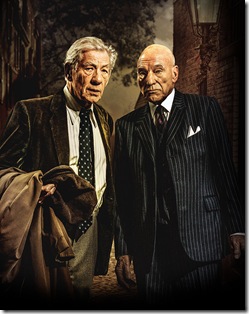 Photo courtesy of National Theatre Live. Ian McKellen and Patrick Stewart
Those of us who cannot dash off to London, now have the chance to see some of the greatest English language theatrical productions in the world  as filmed theatre comes to our  local cinemas by satellite.
This version of Harold Pinter's   No Man's Land, filmed from the Wyndham Theatre in London's West End is just one of those wonders. It was originally produced at the Old Vic in 1975   starring the "two sirs" John Gielgud and Ralph Richardson and has since toured and been given numerous productions.
In this case, the show was followed by an excellent question and answer period which let us see these actors , also two sirs, who are old friends, going  back to their first contact with this play and with the theatre in general. In fact this experience was all the more special for us because it reveals the complicity of the actors, as if it were all taking place in the real home of Patrick Stewart (Hirst), who had just invited Ian McKellen (Spooner) in for a drink and then by accident spilt coffee on his jacket and had to wipe it off with a napkin! "That did happen" said Stewart "but I didn't think anything of it, I just wiped! "  Of course we  are "pissed" adds McKellen so delicately  but even when we learn that the characters have just met in a pub in upper crust  Hampstead Heath, it doesn't quite seem possible because of the closeness  they exude along with a slightly playful familiarity that feeds the  naturalism of their performance style.