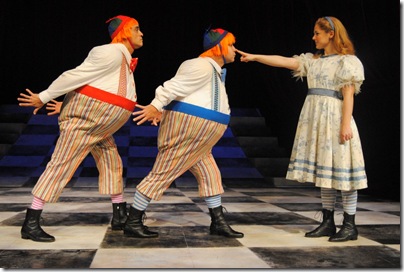 Photo. Barb Gray. Natasha Greenblatt as Alice, Herbie Barnes and Darrell Dennis as TweedleDum and TweedleDee
Jillian Keiley's production of "Alice Through the Looking-Glass," adapted by James Reaney from the Lewis Carroll classic, is awash with ingenious and colorful sets and costumes, audience participation and good music. However Carroll's thoughtful and philosophical parts of the story, even the fact that it's a coming of age for Alice, are drowned out by all the bells and whistles. I'm afraid Alice purists will be dismayed, but this version is great fun and undoubtedly entertaining.
A co-production with the Stratford Festival where it played last summer, it uses the all the technical aspects of that production, but with different actors. Bretta Gerecke's chess board floor slopes upward toward the back, perfect for the Red and White Queens to slide down. The squares even light up as Alice makes her moves.