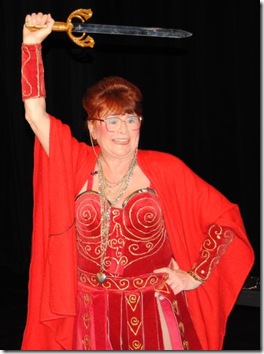 Photo Barbara Gray.
OTTAWA — Her sword is just plastic, but Marg Delahunty, aka the Princess Warrior, has a tongue sharp enough to separate a rhino and its hide without even trying.
Marg, as all fans of slash-and-burn Canadian comedy know, is the alter ego of Newfoundland comedian Mary Walsh. Resplendent in her glittering, red Princess Warrior outfit, the one we've all admired as we've watched her ambush public figures from Mayor Rob Ford to former prime minister Jean Chrétien on CBC's This Hour Has 22 Minutes, Marg is front and centre in Walsh's one-woman show Dancing with Rage.
The show, which seesaws between hilariously pointed moments and arid stretches and ultimately doesn't hold together particularly well, opens with another Walsh character: the purse-lipped, purse-clasping Miss Eulalie. Tut-tutting about topical issues — bridges and sinkholes in Ottawa, the recent appointment of Joe Oliver, "the minister responsible for the destruction of the environment," as replacement for the departed minister of finance Jim Flaherty — she totters down the aisle and onto the stage.
Walsh soon sheds that character along with Miss Eulalie's bulky coat and rummage-sale hat to stand before us in black underwear. She bemoans the state of contemporary feminism as well as her own aging body (she's 61) — or at least the state of a society that makes a clothes-shopping expedition for an aging woman, whose body now bulges in unforeseen ways and places, a voyage to hell. "It leaks out like some fleshy Exxon Valdez," she says, gripping some of that fleshy stuff in a way that's simultaneously self-deprecating, endearing and smartly subversive…….Read more
http://www.ottawacitizen.com/Theatre+review+Princess+warrior+sharp+tongue+needed+edit/9647381/story.html