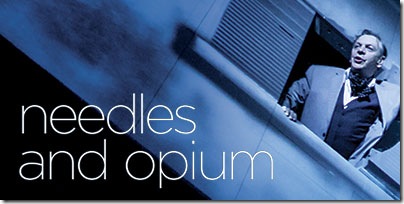 Photo. Courtesy NAC
It's tempting to think it was inspired by, if not something even stronger, one of those LSD-laced sugar cubes.
The huge cube in which Quebec playwright Robert Lepage's fascinating Needles and Opium takes place is for sure laced with the phantasmagorical. Elevated a few feet above the stage with three of its sides walled and three open, it slowly rotates, walls becoming ceilings becoming floors and both time and place proving elastic as three interconnected stories flow into each other.
In one story, American jazz trumpeter Miles Davis visits Paris for a music festival in 1949 and falls in love with French chanteuse Juliette Greco. Unwilling to bring the white Greco back to a segregated U.S, he returns to New York City without her and, despairing, falls into heroin addiction.
In another strand, French poet and filmmaker Jean Cocteau, hooked on opium, visits New York City, also in 1949.
The third, which takes place in 1989, finds an unconfident Quebec actor named Robert, in withdrawal from a love affair, in Paris to do the voiceover for a film about Davis's visit to that city four decades earlier.