Gladstone Theatre
Reviewed by Alvina Ruprecht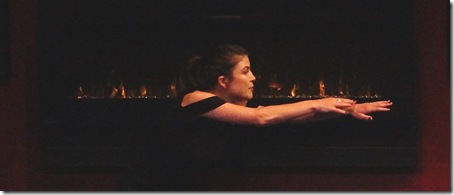 Photo:  by Venetia  Lawless. Zoe Georgaras
An evening that begins in Geoff Gruson's cozy sitting room design with enormous wooden bookcases, a warm fireplace, posters and paintings coming to life under David Magladry's soft lighting that heats up the room in its friendly glow. A writer's paradise. Three friends, David, (Michael Thompson), Sam (Tahera Mufti) and Robert (Chris Torti) are gathered in Roberts sitting room discussing the life and death of Paul, a successful writer friend, author of horror fiction who recently passed away. Robert also laments the death of his own wife Tara Waters, a talented writer whose memorabilia is spread out over the walls and around the house and whom, according to Robert, is not really dead! What kind of presence does he sense in the room?
26
Aug
Posted:
August 26, 2017 Saturday at 7:46 am
Reviewed by Patrick Langston
Has something been lost in translation?
Touted as a hilarious comedy about the off-stage shenanigans of musicians, classical and otherwise, Maestro by Québec playwright Claude Montminy opened Friday at the Gladstone in its English-language premiere. The play is running in both official languages and opened in French a day earlier.
Perhaps the show skims smartly along in its original French (I saw it only in Nina Lauren and Danielle Ellen's English translation), but Friday's opening had the buoyancy of a tuba. (more…)
29
May
Posted:
May 29, 2017 Monday at 7:59 pm
Reviewed by Iris Winston
A Man of No Importance Book by Terrence McNally Music by Stephen Flaherty Lyrics by Lynn Ahrens Directed by Maxim David indie women productions
Part of the charm of A Man of No Importance is its modesty. Almost reflecting the tone of the title in its approach, the award-winning chamber musical is gently low-key, gradually working its way into unfolding a moving story about a bus conductor in 1960s Dublin.
With book by Terence McNally, music by Stephen Flaherty and lyrics by Lynn Ahrens, the 2002 musical is based on the 1994 movie of the same name, starring Albert Finney as bus conductor Alfie Byrne. Byrne escapes his internal conflict and his mundane daily routine through his love of the works of Oscar Wilde — his role model — and his determination to mount a production of Wilde's Salome in St. Imelda's church hall (a most unsuitable location for a script that shocked from the outset and would certainly offend conservative Catholic sensibilities in 1960s Ireland.) (more…)
23
Mar
Posted:
March 23, 2017 Thursday at 11:47 am