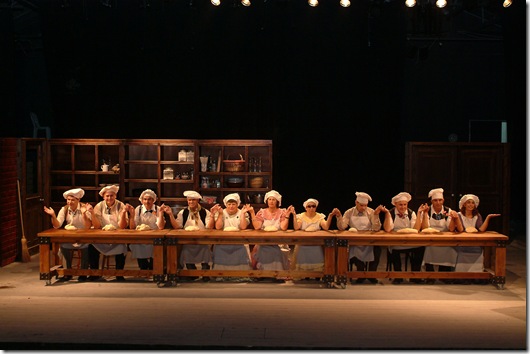 Photo: Avshalow Ahraron.
Not by Bread Alone may be the most unusual theatre experience I have ever undergone. It is a devised piece created by the professional director Adina Tal and the blind and deaf members of the Israeli Nalaga'at Acting Ensemble Company, none of whom had ever appeared onstage before undertaking Light Is Heard in Zig Zag, first performed in 2004 after two years of rehearsal. The Nalaga' at, whose name means Do Touch, is the world's only professional deaf-blind acting troupe.
Light Is Heard in Zig Zag, attempted to bring the spectators into the performers' world, i.e., a world of only three senses. The company's talent and the work's uniqueness made it a success that prompted the group to develop their second production, Not by Bread Alone. The eleven performers and their director built on the techniques they had acquired during their first undertaking.