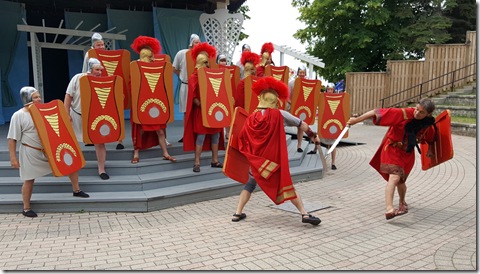 Photos: Drew Hossick
Julius Caesar  by Shakespeare, directed by Rona Waddington,
During the first moments of the play, the Roman tribune admonishes the silly  people of Rome for wasting their time rejoicing about Caesar's triumph over Pompey : "You blocks you stones, you worse than senseless things!" Especially since the same crowd recently cheered Pompey when he came to Rome. In this first tableau, Shakespeare and director Rona Waddington make several points. The Tribune , a male role, is played here by a woman so we know we are in a contemporary world of theatrical fun (never mind Brecht) , especially as the carnival atmosphere bursts joyously onto the stage. The audience is seduced immediately . This first contact also emphasizes the important notion that the fickle Roman crowd is easily manipulated by any talented orator such as Mark Antony, Brutus or Cassius whenever it serves their purpose, and this is one of the important strategies of Shakespeare's text which clearly appears to be indestructible, no matter what one does in the acting space.