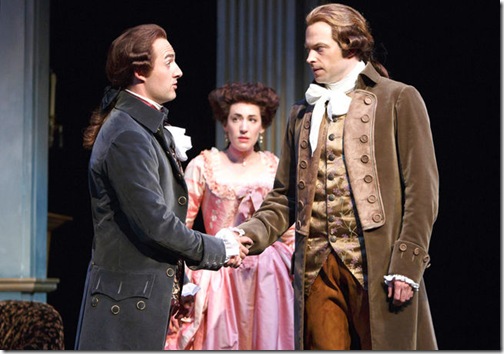 Courtesy of the Stratford Festival
STRATFORD, Ont. — There's genuine pleasure in watching two veteran
Canadian actors successfully mining the humor of Oliver Goldsmith's
classic comedy, She Stoops To Conquer.
So when the curtain rises at the Stratford Festival's Avon Theatre to
reveal Joseph Ziegler and Lucy Peacock in warm and witty conversation,
their world of comfortable privilege further defined by Douglas
Paraschuk's amusing country-mansion setting, you feel that you're in
safe hands.
Ziegler is Squire Hardcastle, and it's a performance that communicates
this character's benign sweetness of nature. To be sure, Ziegler's
Hardcastle can be a bore but a likeable one —so you're ready, for
example, to indulge him in his memories of the Duke of Marlborough and
other battlefield heroes because his chatter gives him so much
pleasure. He's aware of his station, but doesn't flaunt it. He is slow
to wrath — and when the moment does come, late in the play, he
retains his innate dignity. He also understands the grace of
forgiveness — a quality of prime importance in a play far more sweet
natured than its Restoration predecessors.
Mrs. Hardcastle is played by Lucy Peacock whose proud display of an
appallingly awful example of personal hair styling provides an early
glimpse of what we're in for. Still, Peacock's performance makes clear
that we mustn't underestimate this lady. She's fun to watch — there's
a sublime moment when she reacts to a description of her as a "hag"
and another when she loftily tries to shrug off the truth about her
age. But we're also conscious that we're in the presence of a
conniving eccentric, often ludicrous in her affectations, but with a
steely eye on the main chance.
But there's also something disconcerting about these two performances.
Ziegler and Peacock are the only people on stage who are convincing
occupants of Oliver Goldsmith's 18th Century world.
Martha Henry's production seems intent on avoiding the types of
histrionic that sacrifice tone and comic style in favor of farce. But
the end result seems too low-key, too low-octane, too bland for its
own good. In the process much of the play's buoyant humor has been
wrung out of it.
It's not only key characters that remain insufficiently defined in
performance. Even key situations can lack dramatic definition. The
central plot device is hilarious: two wealthy young Londoners on the
make — Marlow and Hastings — are duped into believing that the
Hardcastles' country house is an inn. There's an additional joke at
play here, since these two young rakes from the city have already been
expected there as house guests by the good squire who sees Marlow as a
potential husband for his daughter Kate. So you have Ziegler's
Hardcastle warmly welcoming them as his guests and being treated by
them with cavalier disdain and rudeness as no more than a lowly
innkeeper.
Ziegler is good at displaying the innate courtesy of Hardcastle
throughout two hours of insults — and it's significant that even his
inevitable outburst near the end, although funny, is tempered by this
man's fundamental decency. In any event, by this time, you're mainly
interested in how Brad Hodder's Marlow will react to the revelation
that, as the Hardcastles' guest, he has been behaving insufferably.
Well, Hodder reacts scarcely at all. In brief, he is unpersuasive in
what should be a key comic moment — but should we be that surprised by
this point? This has been a surprisingly one-note characterization —
and this is unfortunate given that he's a character who is sexually
confident only with working-class girls but becomes tongued-tied and
awkward with young women of his own station
Marlow's two contrasting natures show little of this essential
contrast in Hodder's portrayal. That poses an extra challenge to Maev
Beaty who plays Kate Hardcastle. The play has her shrewdly assuming
the role of a barmaid in order to soothe Marlow's nerves but again,
although Beaty handles her dialogue confidently and amusingly, there's
a lack of differentiation in her two identities.
A sub-plot involving a casket of jewellery is treated like a tiresome
afterthought: shouldn't these moments be offering something more than
just an opportunity for Mrs. Hardcastle to go into hysterics again? On
the plus side, there's a certain foppish confidence in Tyrone Savage's
portrayal of Marlow's friend, Savage, and the dependable Lally Cadeau
makes her own memorable statement as a character called Pimple. But
then there's the problem of Tony Lumpkin, Mrs. Hardcastle's bumpkin
son and the mischief-maker responsible for Marlow's belief that when
he arrives at the Hardcastle house, he's checking in to an inn. Karack
Osborn's portrayal is largely limited to one over-sized set of vocal
and physical mannerisms. You wouldn't know from this performance that
he's one of dramatic literature's most lovable oafs.
To a degree, the strength and durability of the play itself gives the
production some ballast, but that doesn't erase awareness in the
viewer of potential unfulfilled.
(She Stoops To Conquer runs to Oct. 10.Ticket information at 1 800 567
1600 or stratfordfestival.ca)