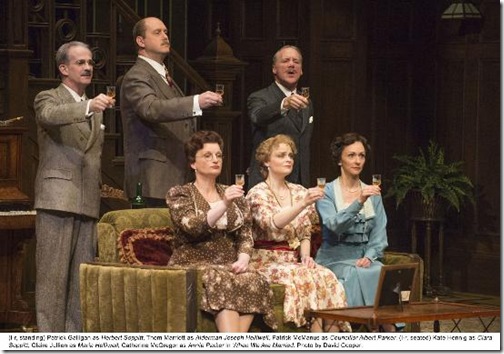 Photo: David Cooper
NIAGARA-ON-THE-LAKE, Ont. — Acerbic American critic John Simon once observed that the Shaw Festival probably has the best acting company in the Western Hemisphere.
And the proof is again in evidence with the festival's uproarious revival of When We Are Married, J.B. Priestley's 1938 comedy about three Yorkshire couples who make the shattering discovery at their joint Silver Anniversary party that they were never legally wed.
The play is a cunningly executed fusion of character and situation. It is also a probing and at times painfully funny dissection of a particular culture and of a class system that achieves its own unique definition within the West Riding town of Clecklewyke, which is the fictional stand-in for Priestley's own birthplace of Bradford.
It is also, be warned, politically incorrect. This is a world where husbands believe wives should know their place and prattle on about it to ludicrously self-revealing lengths. But it's also a world where the women may strike back and in which the servants can turn deliciously uppity. In fact, as the play progresses, it's clear that this crafty old socialist, John Boynton Priestley, is also writing about a society in upheaval, with the old mores being challenged at every turn. And these couples are not just fearful of losing their-hard earned place in the local pecking order. On a more provocative level, we are also witnessing the response of three women to the realization that, after a quarter of century of marriage, a new-found freedom suddenly beckons.
There's a lot simmering beneath the surface of this play, but the bottom line is that Joe Ziegler's sprightly production at the Royal George Theatre is a consistently funny and ultimately endearing experience.
Ziegler shares his triumph with designer Ken MacDonald who has given the sitting room of Alderman Helliwell's home the kind of affluent respectability worthy of a prominent local councilor. Also deserving of laurels are costume designer Sue LePage, lighting designer Louise Guinand and composer Marek Norman whose impish music contributes mightily to the jollity. And finally we have a wonderful cast.
First of all, the hosts of this anniversary party — Alderman Joseph Helliwell and his wife Maria. As played by Thom Marriott, he's bombastic and bullying — a familiar type, but one given substance and originality in this performance. It is, of course, a moment of delight when the good alderman's own Achilles heel stands revealed, but it's also an opportunity for this normally formidable actor to show comic vulnerability. As for Claire Jullien's beautifully defined portrayal of his much-put-upon spouse, it yields its own surprises.
Then, in contrast, Patrick Galligan presents us with Herbert Soppitt, a henpecked husband so deferential and defensive that he almost fades into the wallpaper. He's wedded to Clara, who — in Kate Hennig's fearsome performance — has the demeanor and determination of an armored tank. But Soppitt will have his moment of glory — essentially he becomes that old standby of popular literature, the worm that turns. Galligan rises to the occasion with an action that breaks up the audience — but its lack of political correctness is such that most present-day dramatists wouldn't dare use it.
Finally, there's perhaps the most interesting couple of all — Patrick McManus, absolutely terrific as Councilor Albert Parker, a creepy chauvinist husband, and a crashing bore to boot as he spouts his reactionary obsessions to anyone within hearing. This character, more than anyone else in the play, reflects the complexities of class, starting with marriage — women are inferior — and ending with geography — he wants to get rid of the new chapel organist who's one of these "lah-de-dah" types from Southern England.
McManus is hilarious in an awful kind of way — a bad-tempered terrier of a man who deserves his inevitable comeuppance. This he gets from a splendid Catherine McGregor, initially a quivering rabbit as his downtrodden wife, Clara, but then revealing unexpected dimensions and gutsiness when she learns their marriage, long an emotional sham, may be a legal joke as well. The moment when she tells him what she really thinks of him makes the audience want to stand up and cheer — but we should take note of how nuanced and character-driven this richly comic scene is as well.
Subtlety is not as much in evidence with some of the supporting work, but Mary Haney is glorious on her own inimitable level as an outspoken charwoman who refuses to know her place: Priestley loved to celebrate the common man or, in this instance, woman. Peter Krantz is a shambling delight as the drunken photographer who's been hired to take an anniversary portrait of the happy celebrants. There's an array of neatly etched cameo turns from the likes of Charlie Gallant. Kate Besworth, Wade Bogert-O'Brien, Fiona Byrne, Peter Millard and Norman Browning. Finally there's Jennifer Dzialoszynski, an absolute joy as a chirpy 15-year-old scullery made. This is ensemble work to treasure.
(When We Are Married Continues to Oct. 26. Ticket information at 1800 511 7429 or shawfest.com)