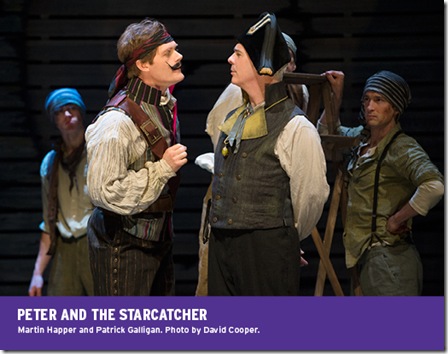 Photo: David Cooper
NIAGARA-ON-THE-LAKE, Ont. — Perhaps the oddest aspect of Peter And The Starcatcher — playwright Rick Elice's subversively gleeful take on the Peter Pan legend — is that the title character often seems so inconsequential that he almost vanishes into the woodwork.
Such, at any rate, is the impression given by the Shaw Festival's production of this 2012 Broadway success about a shipboard trunk containing stardust and an orphan youngster who is destined to become Peter Pan. Charlie Gallant delivers an amiable enough performance in this role (he's known simply as "Boy" for a good part of the evening) and there's no denying his dexterity with a ship's rigging. But it can scarcely be said that he demands our unwavering attention.
The reason, one suspect, is that Elice's script doesn't allow this robust young hero to realize his full potential. Meanwhile the other characters from this prequel to J.M. Barrie's classic story are springing to life. Kate Besworth is a feisty delight in the Wendy-like role of Molly, the show's beleaguered young shipboard heroine. Patrick Galligan cheerfully represents the show at its silliest — indulging in incomprehensible dodo talk in his portrayal of Molly's aristocratic father who's on a secret mission for Queen Victoria. Martin Happer's moustachioed pirate, Black Stache, is a triumph of mock villainy, and the scene recording his metamorphosis into Captain Hook is a comic highlight. Last but definitely not least, a wonderful Jonathan Tan makes every moment work in his performance as the pirate captain's absurdly loyal lieutenant, Smee.
Jackie Maxwell has directed Peter And The Starcatcher with unfailing energy. Whether her commitment to the material is really warranted may be a legitimate concern, but there's no denying her success in showcasing the outstanding ensemble qualities of the Shaw Festival acting company. The weathered ramshackle nature of designer Judith Bowden's set is part of the show's magic — reflecting confidence that ropes and ladders and strips of cloth can free the imagination and transport us into the Neverland of this play — with the help, of course, of an acting troupe that, at one moment, may be required to impersonate the rolling ocean, and at the next something as nonsensical as a hat.
Nevertheless, Peter And The Starcatcher is a peculiar hybrid — not exactly a family show, but rather an adult piece full of adult quips and allusions, albeit one that still contains enough delight those youngsters who are towed along.
Furthermore the style and content may not be to everyone's taste — and in fact may infuriate genuine devotees of the Peter Pan mythology. Twenty-four years ago, filmmaker Steven Spielberg found himself forcefully defending the fart jokes in Hook, his disastrous take on the Pan story, on the simple grounds that the kids he wanted to reach loved this kind of humour. With Peter And The Starcatcher, playwright Peter Elice, appears to show misplaced homage to one of Spielberg's worst movies by subjecting us to the breaking of wind in his piece as well. It's not so much offensive as sophomoric, particularly when he attempts to make it a running joke.
Elice's script is based on a popular novel by Dave Barry and Ridley Pearson. It's clever — but in the sense of being almost too clever and facile for its own good. Hence, near the end, when it seeks to get serious, there still seems a certain soullessness in Peter's parting from Molly. By this point we're too conscious of the material's real spiritual home, one which is less J.M. Barrie than it is Black Adder and Monty Python. If you like outrageous punning, fart humour, references to Elizabeth Barrett Browning and Philip Glass, and the sight of a guy wearing a codpiece stuffed with straw, Peter And The Starcatcher is probably for you. Other playgoers may find their tolerance strained.
So how good is this production? Very good indeed. Was the play worth doing? Ah, there's the rub.
(Peter And The Starcatcher continues to Nov. 1. Ticket information at 1 800 511 7429 or shawfest.com)