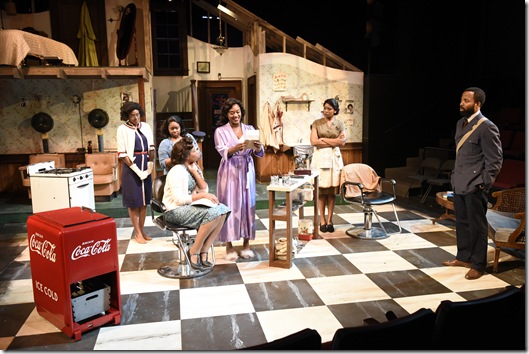 Photo: Glenn Perry.
Boston's Lyric Stage is presenting Saturday Night/Sunday Morning which takes place in a Black neighborhood in Memphis during the final days of World War II. More specifically, the plot unfolds in a combination beauty parlor/boarding house for women owned by Miss Mary (Jasmine Rush), the play's matriarch.
Men, with the exception of the postman (Keith Mascoll) and Bobby, a fantasy lover (Omar Robinson), are absent from the play, but not from the women's minds. They await husbands and boyfriends whom they have not heard from in four years. The dramatist gives illiteracy as the reason. However, it is more a plot device than a sociological fact, since illiteracy among African Americans in the 1940s was roughly 10%, not the 90% found in Saturday/Night Sunday Morning.
Act I is built around rough humor as the seven women, with the exception of Gladys (Tasia A. Jones) insult and tease each other. Customers, boarders, and hairdressers are all well acquainted. Most are on edge because they don't know what the future will bring, or when their men will return, and how they will get along with them.
The mood of Act II is sadder, deeper, and more fantastical. Leanne, a waning glamour girl, had a brief affair with Bobby before he shipped out. She irritates most of the other women in the house with her preening and crying over her lost boyfriend. Gladys, a typist and would-be writer, takes refuge at Miss Mary's after her family's house burns down. A religious and kind person, she is convinced by other boarders to write a love letter to Leanne (Jade Guerra) in the guise of Bobby. Leanne, embarrassed by her illiteracy, pretends to read it. The plot thickens. Gladys, in love with Leanne, but ashamed of her feelings is admonished and teased by an imaginary and attractive Bobby. In desperation, Gladys makes an unsuccessful play for Leanne.
Strangely, very little is said about the African-Americans' treatment by the prejudiced white community. The postman, lamed by polio, is pleased that his disability kept him from military service, since there are battles to be fought for liberty in the US.
The acting is competent. Stand-outs are Jade Guerra, Keith Mascoll and Omar Robinson. However, the cast was difficult to understand in much of Act I.
Mac Young's set works very well on the Lyric's stage. The hairdressing salon is part kitchen, complete with stove and part beauty parlor with two dryers upstage. On the second level is Leanne's room, the only bedroom seen in the boarding house. Ian W. King's lighting works well and is particularly lovely during Bobby's scenes. Elisabetta Polito's costumes do not quite capture the mid-1940s look.
Written by Katori Hall
Directed by Dawn M. Simmons
Cast: Ramona Lisa Alexander, Jackie Davis, Meagan Dilworth, Jade Guerra, Cloteal L. Horne, Tasia A. Jones, Keith Mascoll, Omar Robinson, Jasmine Rush
Runs at the Lyric Theatre, Boston through November 21, 2015