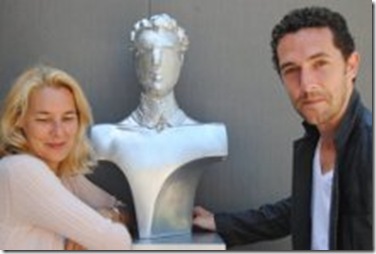 Rona Waddington and Eric Craig (Hamlet, summer 2013)
The Board of the St. Lawrence Shakespeare Festival is delighted to announce the appointment of Rona Waddington to the position of Artistic Director, commencing in December 2014.
During a four month search and interview process, during which 18 candidates from across the country were considered, it was clear that Rona brought a wealth of outstanding experience to the table, together with a passion for Prescott gained during her time with the Festival last summer, when she directed Hamlet. This production was honoured with the Capital Critics Circle Award for Best Director.
Waddington has an impressive background, including work as an actor at the NAC and directing credits at theatres across Canada and in Europe. Her administrative experience as an Artistic Director includes time at Port Stanley Festival Theatre, Lunchbox Theatre in Calgary and Artistic Associate at Drayton Entertainment.
She is currently working at the Stratford Festival as part of the Michael Langham Workshop for Classical Directors and will also be directing King Lear at the New Open Space Company in Paris before joining the Festival officially in December.
Board Chair Jo-Anne Beckstead said: "The high quality of all the candidates who submitted was a signal that the Festival's reputation is starting to be recognized nationally as a producer of quality, accessible, professional productions. Rona is the ideal person to build on the good work begun by Deb Smith and Ian Farthing, moving the Festival into an even greater position of artistic prominence."
Visiting Prescott for the announcement, Waddington said: "I'm delighted to be returning to the St. Lawrence Shakespeare Festival in a more permanent capacity and to the beautiful town of Prescott.  It's such a welcoming community!  I began my career in Ottawa and have worked, over the years, at many of the area's regional theatres so this feels like a coming home for me.  I look forward to building on the excellent work that Ian, the staff, and the theatre's many volunteers, have accomplished, and to producing exciting and entertaining shows that further the Festival's reputation as a destination theatre."
2014 Season: The Tempest  and The Two Gentlemen of Verona
July 12 – August 16
The Festival also includes its popular Sunday Series and Young Artists Training Program
Box Office: 613 925 5788
Online sales at www.stlawrenceshakespeare.ca
For more information or to arrange an interview, contact
IAN FARTHING, Artistic Director
ad@stlawrenceshakespeare.ca
Cell: 604 818 4301