Psy: A production of Les 7 doigts de la main in Boston
Reviewed by Jane Baldwin
28
Jan
Posted:
January 28, 2011 Friday at 1:43 pm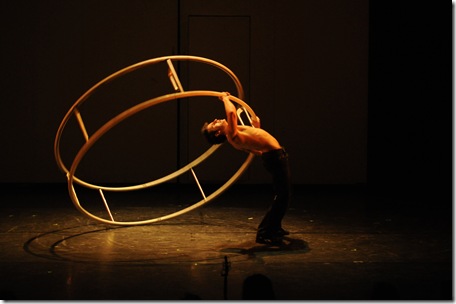 Photo: Davis Poulin
Psy, a creation of Montreal's les 7 doigts de la main (the 7 fingers of the hand), is a performance unlike any I have ever seen, despite my fondness for the modern circus. The young multi-talented hyper energetic company combines athleticism, dance, and acting to create a storyline that explores psychological disorders through the trained circus body.  Each of the performers develops a character with a particular syndrome: They include manic-depression, multiple personality disorder, hypochondria, amnesia, and paranoia. The show avoids grimness through humor, although an underlying menace is ever-present.
Paradoxically, although circus is the most fantastical of the arts, Psy is based in realism. Its characters are recognizably contemporary and might serve as the foundation for a play, film, or television show. At the same time, the artists provide spectacle. Lavish circus costumes are replaced by street clothes. The set is simple, consisting mainly of a few props such as chairs and tables and the instruments of the performers' art – trapeze, Chinese pole, German wheel, movable staircase, teeter board, juggling pins, etc. A gigantic wardrobe, reminiscent of a magician's cabinet, is upstage center. And like a magician's cabinet, when opened, it creates illusion. Here it is normalcy; the three storeys represent domestic interiors. When closed, images that define place – street scenes, a bar, a therapist's office represented by a diploma and a clock – are projected on to its doors.
Given that the plot is centered on therapy sessions, at several points a swivel chair and a chaise longue are prominently displayed. As the performance begins, lights on the audience go on and off, destabilizing them. A therapist enters and sits in the chair; from among the audience, a spot picks out Michel Michel (played by Guillaume Biron), who suffers from auditory hallucinations. Like him, we hear a robotic voice reciting convoluted and comic statistics about the brain. Michel Michel rises, climbs onto the stage, and suspends himself from a trapeze. As he slowly and gracefully contorts his body, a plaintive voice sings that his life is "sans attaches" (without connections). A very moving scene.
The show is a mélange of slow, almost melancholy episodes and high tempo scenes, with the greater emphasis on speed and energy. But no matter the mood, every moment showcases the skills of the eleven performers – expanded from the original seven for Psy. All but two of them are graduates of Montreal's National Circus School. Director Shana Carroll felt that a larger group would allow more room for character development, since there would be fewer physical demands on the individual.
Each is a circus virtuoso. For instance, one's specialty is hand balancing; another's, the static trapeze; and still another's, the swinging trapeze. Their specialties are linked to their characters' maladies.
A striking example is Danica Gagnon-Plamondon's Lily the Agoraphobic. Lily overcomes her fear of open spaces on the swinging trapeze soaring higher and higher as she twists, spins, rolls, catching herself sometimes by her hands, at others, more thrillingly by her feet.
Julien Silliau (Johnny the Addict) uses the German wheel as a metaphor for his habit. The addict stumbles on, steps into the wheel and struggles with it, as if wrestling prison bars. He slowly becomes more comfortable, works with the wheel, plays with it, dances with it, and achieves his high.
Héloïse Bourgeois (Claire, a sleep disorder sufferer) and William Underwood (George the Paranoiac) offer the most sensual act of the evening, a tender vertical dance on the Chinese pole. At moments, Underwood holds Bourgeois suspended in the air by one hand as she drifts in and out of sleep; at others, they encircle the pole and each other as they climb and slide.
The closing number is a grand finale in which Gisle Henriet (Dexter of the Multiple Personalities) becomes a modern version of the circus classic – the human cannonball. But here, the launching pad is a teeterboard, which propels him higher and higher and faster and faster with each jump, until he reaches the top of the cabinet. Around him, the company juggles and vaults. Everyone plays secondary roles in the group scenes, which reveal their multiple skills as jugglers, tumblers, balancers, and dancers. The intermittent dance numbers are remarkable for their grace, unity, rhythm, and style. Despite their virtuosity, these performers are team players.
If you want a glimpse of Psy, go to http://www.youtube.com/watch?v=nOkWUjHPRqg
Psy
A production of Les 7 doigts de la main at ArtsEmerson, Boston, MA
Director: Shana Carroll
Assistant Director: Isabelle Chassé
Artists
Guillaume Biron
Héloïse Bourgeois
Mohamed Bouseta
Danica Gagnon-Plamondon
Gisle Herniet
Olga Kosova
Florent Lestage
Tom Proneur-Orsini
Olaf Triebel William Underwood
Sets: Cloé Alain-Gendreau
Lighting: Nol Van Genuchten
Costumes: Manon Desmarais
Sound: Julien Lanthier