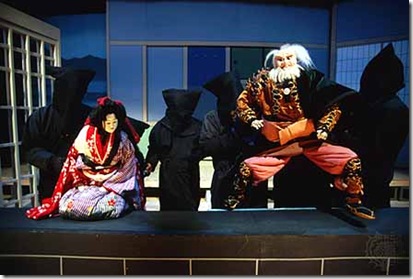 Photo: Bunraku puppetry…
Pontus Lidberg Dance – Written on Water and Snow
The exciting Swedish dancer, choreographer and filmmaker, Pontus Lidberg has a long list of impressive accomplishments in all the above-mentioned fields , working with theatres and companies around the world.  He gives us beautiful as well as challenging creative moves with the human body. A magician who molds and choreographs his lithe corporeal instruments, most of whom appear to have serious balletic training which produces an extraordinary sense of discipline and breathtakingly supple interaction and a multitude of possibilities to be somatised on stage.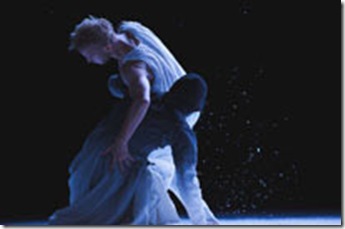 Photo: Petrus  Sjovik.  Snow. with dancer and puppeteer.
Written on Water was originally conceived as a pas de deux for the American Ballet Theatre. The plucking , sounds coming from Stefan Levin's music, that seem to emanate  from industrial material working overtime in an urban setting, form a powerful soundscape that accompanies the two movements of this first piece. The two male dancers, Barton Cowperhwaite and Pontus Lidberg flow together in liquid harmony as they communicate competition, domination, eroticism, submission, disdain and various emotions and competitive stances, always entwined in abstract movements where the ballet base is redefined by modern steps, gestures, and corporeal choices, all conforming to the music, much in the style of Balanchine's work. The second part of this show brings us back to a pas de deux with a man and woman where the classical balletic style conforms to a more traditional even lyrical vision of that dance form, in keeping with the traditional vision of the mixed gender couple . Nevertheless, there was always a flowing, sweeping grace that accompanied their work that gave one the sense it was all something new.
What linked Written on Water and the following piece entitled "SNOW" which is a world premiere, was a whiff of Japanese danse theatre that hovers over the whole evening and comes to a head during Snow. At first glance of that white precipitation, water or snow  drew me back to the Butoh performances and the fallout that accompanies much of their choreography. Lidberg's work has nothing to do with a postnuclear esthetic but the uneasy relationship with the forces of nature that seem to impose themselves on the human beings in these setting suggests memories of that other dance.
More important is the way Lidberg has integrated and transformed the Bunraku style of puppetry into the second piece. That was fascinating. A young puppet is manipulated most delicately by black masked puppeteers so that this little creature appears to be living and breathing, even when he floats away on his balloon and then collapses. The "adult" dancers  appear bathed in falling snow and stage colours that  highlight tones of white. The dancers are also moved, lifted, turned into human size "puppets"wearing masks and allowing themselves to be dominated by the masked figures which move off and liberate themselves from the puppet functions as they swirl around in their long skirts, suggesting figures inherited from martial arts. Unlike Bunraku puppeteers, these  puppeteers do not remain invisible in the back ground. They are integrated into the performance, removing their masks from time to time, dancing with each other, performing numbers that highlight the swirling material of their skirts.  These dancers/puppeteers exchange founctions as they  move back and forth between masked adult puppets , the dark hooded puppeteers and the little blond doll slumped over on the stage. The traditional lines are broken, the "living" puppets free themselves, Asian and other worlds have fused , redefining the rules of a new dance theatre aesthetic.
Such a shame that this programme was only available for a single evening.
Written on Water :
Choreography Pontus Lidberg
Music by Stefan Levin
Costume design by Reid Bartelme
Dancers: Barton Cowperthwaite, Kaitlyn Gilliland, Pontus Lidberg.
Snow
Choreography , sets and visual design by Pontus Lidberg
Composer . Ryan Francis
Costume design Reid Bartelme
Lighting by Carolyn Wong after the original design by Patrick Bogärdh
Puppet design and direction by Kevin Augustine
Conception and direction of Marionnettes by The Lone Wolf Tribe.