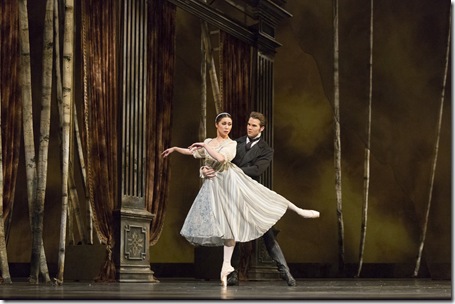 Photo.  Aleksandar  Antonijevic,  with Xiao Nan Yu and McGee Maddox.
Spectacular narrative ballets are the forte of the National Ballet of Canada and Tchaikovsky's work based on stories and fairy tales have become the mainstay of their production, not to discount that exquisite Romeo and Juliet set to the music of Prokofiev which brought Karen Kain to my attention many years ago. This was just after seeing her dance Nana (based on the novel by Emile Zola) with the Company of Roland Petit in Paris, Now, thanks to the choreography of John Cranko the Company has added to its repertoire, another exquisite production of storytelling on point, this one inspired by Russian poet Alexander Pushkin's verse novel Evgeni Onegin written in 1823.
Based on the lyric opera Onegin created in 1879 and set to the music of Tchaikovsky, choreographer John Cranko created his own balletic version of Pushkin's work which premiered in Stuttgart in 1965 and which became part of the National Ballet's repertoire in 2010. Last night, we saw the premiere of this fiery example of Cranko's highly dramatic choreography as it came swelling into Southam Hall, lifting up an adoring audience with its emotional power and magnificent artistic perfection! Who could ever forget Xia Nan Yu as Tatiana the rejected shy young girl, eventually , melting into the arms of the repentant Onegin act III, then she just as passionately tears herself away from his desperate embrace and then turns to the audience in a state of physical ecstasy and mental disarray in one last sign of denial! . The whole event is an extraordinary meeting of dancers who are also excellent actors and the collaboration of director Reid Anderson working with Cranko's choreography gave us a performance which highlighted the strong dramatic power of Pushkin's verse.
The story-line is important but not difficult to grasp especially with the excellent synopsis in the program. Onegin, the typical romantic hero suffering from profound "ennui", as romantic heroes were supposed to do, turn up at the home of his aristocratic friend Lensky who is celebrating his engagement to the sprightly Olga. To our delight there is that beautifully synchronized corps de ballet dressed in Santo Loquasto's swirling mass of costumes, placed in his lushly delicate set that seems to float in the air and then change itself between scenes, as if by magic! There there is James Ingalls' lighting design, and music that comes to life under the direction of David Briskin , declaring it very own emotional impulses stirring the dancers on. It was all wondrous; a form of total theatre that would certainly have enthralled Wagner if he had been around to see it. Onegin (Mcgee Maddox) is not only a fine dancer but an excellent actor. He appears out of the crowd, catching the eye of shy young Tatania (Xia Nan Yu), the landowner's daughter who ignores the festivities with her nose deep in a book as the others make merry. Onegin enters; the whole cast follows his entrance, mesmerized by his perfect movements, by the graceful and self-centered allure of this cruel and selfish young man who never glances at anyone, least of all at Tatiana. Maddox has a conceited frown etched on his brow and his self-absorbed movements turn in on himself as he supposedly dances with Tatiana. Rapidly, this couple becomes the perfect antithesis of the pas de deux danced earlier by Lensky (James Harrison), and Olga (Jillian Vanstone) his fiancé who are both brimming over with love and happiness and desire to watch and touch each other. Onegin's aristocratic boredom and disdain, his cold frown and distant gaze, isolate the strange guest even more from the group as his dancing and his movements as an actor, the wiping his brow with self-pity tell his tale. And this whole persona comes to a head when he tears up Tatiana's love letter leaving her shocked , distressed, confused and in total despair for the rest of the evening.
.That is the beginning of a fine dramatic and balletic performance by Xiao Nan Yu, the delicate gestures with the beautiful point and the feather light body that just begs to be tossed about by partners playing those who would take advantage of her. Even the duel, caused by Onegin's wicked playfulness to make his friend Lensky jealous, is set up so that the inner conflict and staging of fear becomes even more powerful than the moment of the duel itself. Onegin rushes in, draped in a long black cape like Dracula, begs Landsky not to carry this out because he does not want to kill his friend. But tragedy is inscribed in the plot and nothing can change that. .
The quality of the corps de ballet was outstanding as well, especially the extraordinary leaps of the young peasant men for whom Cranko has given a masculine, trickier and more stylized versions of country steps that make them outshine their female counterparts by far in Act I.
We also realize to what extent, the Tchaikovsky's music accompanies and propels these passionate changes of emotion, as Cranko capitalized on its truly dramatic quality that sometimes took over the stage! A most thrilling evening of literature flowing through music and dancing bodies, one that the audience will never forget. This has certainly become one of the great signature pieces of the National Ballet of Canada, ever since Mme Kain put her own stamp on the company. It is an unforgettable evening.!
Onegin plays January 19 to 21 in Southam Hall at 8pm.