OF Mice and Men: solid production of an excellent play
OF Mice and Men: solid production of an excellent play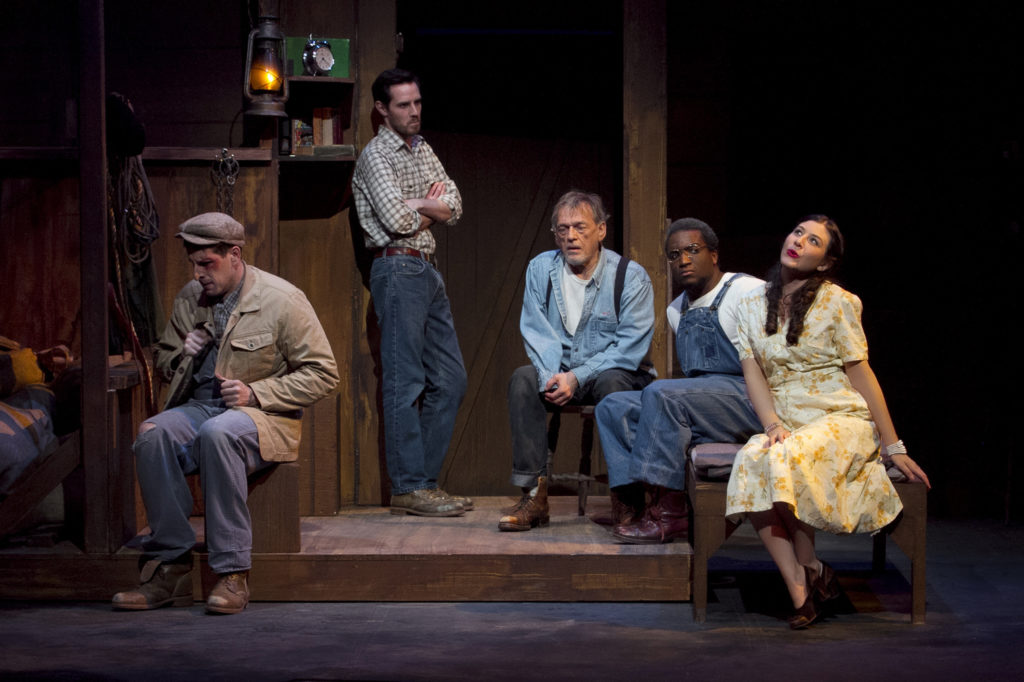 Of Mice and Men,  a story about two migrant workers, George Milton and  Lennie Small, is set  in California during the Great Depression in the United  States.  It  explores the depths of misery of those whose lives were ruined  by poverty, enveloped in loneliness, and whose dreams were  not bound to  come true.
George and Lennie are as dissimilar as two people can be – George is  intelligent and quick witted, whereas Lennie is mentally challenged;  George is a protector and leader, while Lennie  is a witless follower;  George is courageous and determined while Lennie is a big, frightened kid  with an enormous physical strength. Still, they are close friends,
connected by the same destiny and a dream that keeps them going despite their harsh reality.
They dream of buying a small farm. For George, it will be a place where  they can settle down, and for Lennie just a chance to tend rabbits and pet  their soft fur. Although it seems unlikely to happen, it almost comes true  when they meet old Candy on a farm where they are hired as farm hands.
  The old crippled worker wants to share the farm, so he offers to invest
his savings so that combined with what the two of them can save, they could be
the owners of their own place in a month. Unfortunately, it all ends in tragedy.John Steinbeck's novel Of Mice and Men, on which the play is based,  explores the theme of people's powerlessness. Whatever one tries, however hard one works, something stands in the way. With Lennie it is his mental inability, for
Crook it is a race and for George it is companionship with Lenny. No matter how close the dream seems to be, somehow it slips through their fingers.Skilfully constructed, the narrative comes full circle as it  starts and ends at the same place –in the bushes where George and Lennie spend night before going to work on the farm. Where their dreams began,  they also ended.Ottawa Little Theatre often puts on challenging plays with great success, but this time they outdid themselves. Details are  developed to perfection, every segment tells the story in its own way. Robin Riddihough's set tells a vivid story of entrapment, David Magladry's light design paints the passing of time, and Brad MacKinlay's sound design adds the atmosphere.Excellent acting and superb directing transform the stage to another place and another era. Candy as interpreted by Jay Koornstra, is the personification of every Steinbeck`s thought. Candy`s flicker of hope
strongly contrasts with his many losses, underlying the very idea of chasing an unachievable dream.  Another shining star of the show is J.T. Morris. His George is a multi-layered character – as much frustrating and
angry, as caring and dependable. He is desperate and broken, but brave and hopeful. Morris manages to bring all these traits so realistically that it never feels as acting.
Of Mice and Men is well rounded, perfectly paced play. It is real, beautiful, well executed.  Definitely not to miss!
Of Mice and Men plays in Ottawa Little Theatre until 2nd of March.
Production Ottawa Little Theatre
Written by John Steinbeck
Cast
J.T. Morris                George
Dan DeMarbre               Lennie
Jay Koornstra              Candy
James Baxter                The Boss
Dave Coleman                 Curley
Anissa Stambouli            Curley's Wife
Josh Lambert                  Slim
Ross Long                     Carlson
Ezechial (Eze) Leno         Crooks
Alexander Gallacher     Whit
Production Team
Sarah Hearn                                Director
Greg Hancock                               Associate Director
Gil Winstanley                             Assistant Director
Cathy Nobleman               Assistant Director
Robin Riddihough                      Set Design
David Magladry                               Lighting Design
Bradford (Brad) MacKinlay       Sound Design
Gillian Siddiqui                                     Costume Design
Jeanne Gauthier                Properties Design
Sondra Rogers                                Makeup Design
Amy Kennedy                                   Hair Design
Ann Scholberg                                 Book (Prompter)
—