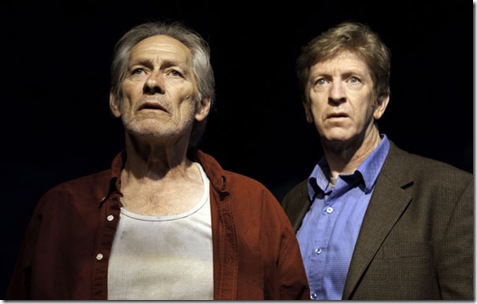 David Fox and R. H. Thomson. Photo by Cylla von Tiedemann.
NO GREAT MISCHIEF is an adaptation by David S. Young of Alistair MacLeod's prize-winning novel. It's about the MacDonald family's history that has been elevated almost to the status of myth, beginning with their emigration from Scotland to Cape Breton. Brothers Alexander and Calum explore their family's memories and relationships. In the play's words, ". . . the legacy of life handed down across the centuries." The series of stories are pulled together by Alexander's lyrical narration. This production has almost a dream-like quality that captures the spirit of the book.
For one thing, it's a technically beautiful production with an unbroken flow. Charlotte Dean's set consists of a slanted scrim upstage with two side panels, the scrim painted in an abstract blue-green pattern. The side walls have small shelves for props and musical instruments. There's a door up center and a few wooden chairs.
The simplicity provides a perfect canvas for Graeme Thomson's creative and evocative lighting. His lighting along with Todd Charlton's masterful sound has created one of the best thunderstorms ever. The light and sound in the underground scenes almost become another character.
This is a true ensemble cast. Most also play many small roles, but they're such good actors it's never confusing. They're also accomplished musicians and singers. Ben Irvine is good as two different Cousin Alexanders, especially the draft dodger from California. Daniel Giverin and Stephen Guy-McGrath do a fine job as Brothers 1 and 2. They're also terrific fiddlers and very good in various other roles.
As Grandma, Nicola Lipman is thoroughly believable and her last scene with Alexander is almost unbearably poignant. Jack Nicholsen as Serious Grandfather gives us subtle glimpses of the warmth hidden under the undemonstrative exterior. As the often over-lubricated Grampa, the irrepressible Paul Rainville has one of my favorite lines. "When the going gets tough, the tough get hammered."
David Fox as Calum, Alexander's alcoholic brother, gives a strong performance. We come to understand the reasons for his disintegration. As Alexander, who acts as narrator and is the pivot point for the memories, R.H. Thomson gives a wonderfully sensitive performance. He handles the connective narration of lyrical language with ease and is very believable as both the boy and the man. The last two scenes between him and Calum are very powerful.
The music, arranged by Mike Ross and under the direction of Kate Stevenson, adds a great deal to the production. The a capella vocals sound great and as for the instrumentals, wow! In Act II there's a literal play-off between the MacDonald work crew and the French Canadians. Two fiddlers, 3 guitarists and various percussion instruments go head to head. The terrific music competition gradually disintegrates into a slow motion fight as night slowly falls. It's brilliant staging.
That brings me to Director Richard Rose. His staging is very inventive and often has the dream-like quality of a memory play. So many visual moments stand out – crossing the ice, playing in the wind on the cliff and the scenes underground. He and the skillful performers bring the MacDonalds and their stories to life. NO GREAT MISCHIEF made me want to visit Cape Breton where there's ". . . a sky big enough to hold two days at once."
NO GREAT MISCHIEF at 1000 Islands Playhouse through October 5 Tkts: 613-382-7020
NO GREAT MISCHIEF by David S. Young adapted from Alistair MacLeod's novel
Producer: 1000 Islands Playhouse, originally produced by Tarragon Theatre
Director: Richard Rose
Set & Costumes: Charlotte Dean
Lighting: Graeme Thomson
Sound: Todd Charlton
Music arrangement: Mike Ross
Music Director & Assistant Director: Kate Stevenson
CAST
David Fox: Calum MacDonald
Daniel Giverin: Brother 1
Stephen Guy-McGrath: Brother 2
Ben Irvine; Cousin Alexander
John Koensgen: Alexander MacDonald (Oct.1-Oct.5)
Nicola Lipman: Grandma
Jack Nicholsen: Serious Grandfather
Paul Rainville: Grampa
R.H.Thomson: Alexander MacDonald (Sept. 13-Sept.29)