Reviewed by Kat  Fournier.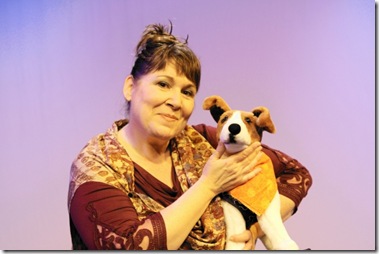 Photo: Lois Seigel
Kate Hurman is brilliant in My Brilliant Divorce, a monologue by Irish writer Geraldine Aron which is now playing at the Gladstone Theatre. The lone character is Angela, an irreverent middle-aged woman suddenly contending with divorce. Playwright Aron's award winning script was originally performed across Ireland in a successful run which garnered a nomination for an Olivier Award and has subsequently been performed worldwide. Angela, the infectiously lovable divorcee, has appeared on stages from Nairobi to Prague and beyond.
Here, Ottawa director John P. Kelly takes up the torch and his direction is subtle. The pace and timing of the play show a keen grasp of Aron's script, while an effective, if minimal, use of props helps to enhance Hurman's performance. In a play that rests on the shoulders—and talent—of one actor, direction must be used to support that work, and Kelly and Hurman strike a good balance.
Hurman seamlessly portrays Angela—a potty mouthed, rash and unpredictable woman who finds her life unravelling when her husband unexpectedly decides to end their marriage. She is hurt, blind sighted and woefully underprepared for life as a single woman.
The script satirizes and exaggerates Angela's situation and delivers some truly "laugh out loud" moments. Angela is a hypochondriac, obsessed with the on-set of middle-age and more focused on her beloved dog than her ex-husband. She is dramatic, ironic and animated, all while maintaining a relatable quality. The play is a head-spinning montage of the next three years of Angela's life as she adapts to her divorce. The script is witty and humourous and Hurman brings to her role a great sense of comedic timing and physicality.
An outstanding monologue involving Angela's first post-divorce sexual encounter is truly side-splitting and Hurman embodies the awkward memory in all its humiliating glory. A cornerstone to the success of the production is Hurman's prowess as a character-actor; she adeptly takes on the many voices (and accents!) in the play—from the gossiping house cleaner to the dry, suicide-helpline attendant—all with apparent ease.
What stands out most is her ability to shift between the comedic and the more sentimental aspects of the script. There are some deeply moving moments as Angela contends with isolation and feelings of abandonment, and yet the pace of the play remains quick and energetic. Watching Hurman personify these revealing moments of deep vulnerability gives the play depth; Angela becomes more than a two-dimensional character, but rather a real human being navigating an un-foreseen complication in her life.
Two, simple acting areas make up the bulk of the minimal set. To the left, we see a chair and side table. To the right, a simple cushioned bench. These two multipurpose areas represent any of many locations throughout the play. Images, such as fireworks, projected onto a large screen at the back of the stage show the passing of time by indicating the arrival of another Holiday, and there is Angela, still alone after one year.
Some technical issues arose occasionally which interrupted the flow of the comedy. Between the use of projections, music cues and lighting changes, there were moments that were somewhat mistimed. Regardless, these issues are fairly minor and do not compromise the quality of the production as a whole.
Overall, the show is fast-paced with tight transitions which keep the story moving. Underneath the great comedic timing, the production delivers both comedy and substance in equal measure. This is a memorable production that finds the fine balance between Angela's deeply relatable fear of loneliness, while tapping into some really funny mishaps on the road to happiness.
SevenThirty Productions and Pat Moylan present My Brilliant Divorce by Geraldine Aron at The Gladstone theatre until May 17th.
www.gladstone.ca, 613-233-GLAD
Starring Kate Hurman as Angela
Director: John P. Kelly
Production Manager: Tim Oberholzer
Stage and Props: Jess Preece
Lighting: David Magladry
Wardrobe: Patrice-Ann Forbes
Projection Design: Fiona Currie
Assistant Director: Nicolas Alain