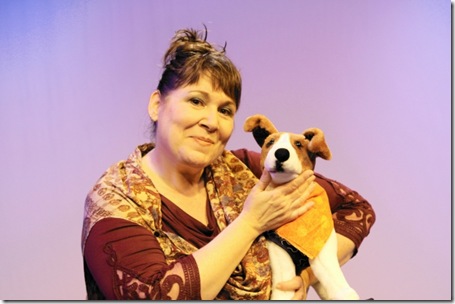 Photo: Lois Seigel
Angela Kennedy-Lipsky can crank out shrewd and funny lines: "Smugly round," she says of her ex-husband's head. At the same time, she's so lonely that she sends a postcard to herself from a disastrous resort holiday.
And that's the real trick to Geraldine Aron's comedy My Brilliant Divorce, a one-woman show here starring Kate Hurman: to walk the balance beam between humour and poignancy that makes Angela a full human to whom we can relate.
Directed by John P. Kelly, this production slips more than once in the first act, only to stride beautifully through the second.
Angela is middle-aged with minimal self-esteem and a hypochondriacal bent (she's convinced she has bowel cancer after binging on beetroot, for example). An American transplant now living in England, she's been abandoned by her bimbo-chasing husband.
She's initially elated at her new-found freedom, but, with only her dog for company, loneliness soon sets in. So does a series of ill-advised attempts — ill-advised because Angela has a flair for stepping on the business end of life's rakes &— that find her striking out at the dating game, engaging a cuss of a divorce lawyer, and enduring long-distance phone conversations with her Dublin-dwelling mother whose current hobby is attending funerals.
In one scene, she edges into a sex shop ruled over by a stentorian cashier who broadcasts to all and sundry exactly what type of vibrator Angela is buying. Hurman, who enacts the cashier and multiple other characters with economy and a range of accents, is priceless in the sex-shop scene.
Hurman tackles her role with gusto, giving us an Angela who, although she's long been the wallpaper to other people's lives, is as resilient as she is vulnerable. The problem is that Act 1 moves at such a clip that Hurman doesn't have a chance to fully embody those contrasts that define her character's development and our connection with her.
That changes in Act 2, where there's suddenly room for Angela — and us — to breathe.
Maybe this was all deliberate, meant to show how Angela herself has to learn to slow down, take a breath, allow her inner self to emerge. But from an audience perspective, it's counterproductive.
Bottom line: a show whose flaws could easily be righted, turning a reasonably enjoyable evening into a thoroughly enjoyable one.
Continues until May 17. Tickets: 613-233-4523, thegladstone.ca
My Brilliant Divorce
A SevenThirty Productions/Pat Moylan co-production
The Gladstone
Reviewed April 25
© Copyright (c) The Ottawa Citizen