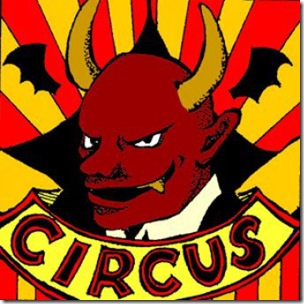 Reviewed by Kat Fournier
The Devil's Circus
The Wishes Mystical Puppet Company    Directed by Daniel Wishes
A "reimagined" comedic version of Orpheus and Eurydice's tragic love story. Here, Orpheus is a vain circus performer and Eurydice is his sidekick. After falling to her death from the high wire, Eurydice winds up in hell where Satan holds his own circus. This variety show is tied together by a loose narrative of Eurydice's and Satan's own love story and features a number of puppetry traditions from Shadow to Bunraku to tricked-out 19th century marionettes. The craftsmanship is quite remarkable though malfunctions with a number of the puppets hamper the overall quality of this production, as did the unsubtle manipulation of the Bunraku puppets. Look forward to the introduction of the multi-headed dog Cerberus; who knew a hell-hound could be so lovable.
Story Whore
2Hoots Productions
Written and Directed by Jon Bennett
Prop comic? Meta-theatrical comedic autobiography? It's hard to say exactly where this show fits best, but it's undoubtedly entertaining. An expert story teller with a number of internationally touring shows in his belt, Jon Bennett is known for his biographical, irreverent, and darkly comedic stories about his family, such as Fire In The Meth Lab. This time around, Bennett is the star of his own story. Story Whore is a High Fidelity-esque journey through the great loves of Bennett's life. His storytelling is paired with a simple slide-show projected onto a screen, showing the audience images from Bennett's own childhood as well as comedic approximations of the characters that appear in his story. This self-reflexive comedic story is funny, excellently paced, and the sometimes raunchy humour is simply entertaining. Find time for this show at the Montreal Fringe and you won't be disappointed.
Le Monstre
Théâtre Kata
Written and Directed by Olivier Arteau-Gauthier
This French show is high-impact and thought provoking. The play is inspired by Antonin Artaud's Theatre of Cruelty where shock and surreal imagery create a total assault on the audience's senses. Le Monstre does just that. In the opening scene, a man strips naked on stage, drinks a bottle of laundry detergent and proceeds to throw up into a washing machine. The scene shifts and a woman walks in, finding him naked. The audience can't be certain if what had just transpired was real or not. Illusion and reality blend and diverge in a sequence of surreal encounters between these two, who play out an entire romance in the laundromat. The male and female are played by a cast of ten; five women and five men who each become part of the couple, in any number of arrangements. The staging is imaginative and effective. It is raw, explicit and totally immersive. A cri de coeur of a generation fuelled by chemical consumption, slaves to destructive indulgences, and obsessed with vanity. A must-see.