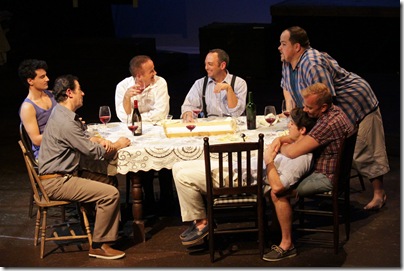 Photo: Allan Mackey
It is not surprising that a thread of anger runs through Love! Valour! Compassion! given that Terrence McNally's award-winning play had its première in 1994. This was a time when the scourge of AIDs was felling many, primarily homosexual men, and being HIV positive was a death sentence.
Buzz and James, two of the eight characters in Love! Valour! Compassion!, are near death. By contrast, long-time couple Arthur and Perry have escaped AIDs and mark their fourteenth anniversary together in physical health, as they repair the health of their relationship. Meanwhile, aging choreographer Gregory must come to terms with his inability to dance as he once could and deal with a recurring speech impediment. His balance is restored when he is with his young partner, Bobby, who is blind but undaunted by his disability. Another regular member of the group that meets at Gregory's home is the angry and bitter John. With him is Ramon — handsome, virile, passionate and promiscuous — the catalyst who upsets the equilibrium the rest have achieved over the years.
The Toto Too Theatre production of Love! Valour! Compassion! celebrates love, identifies valour, inspires compassion and clarifies the underlying anger. It is moving, amusing and, at more than one point, brought me close to tears.
Director Chantale Plante and her cast bring reality to the key relationships in this fine ensemble production, despite some of the incidents required by the script being hard to accept. (The suggestion that one man would force another to put his hand into an active garburetor is unlikely at best, for example.)
Lawrence Evenchick maintains the contrast between characters as twins John and James. As Gregory, Shaun Toohey bursts with anger at his declining ability and overflows with tenderness for Bobby. Josh Kemp plays up the comic side of his characterization of Buzz, yet retains the depth of fear that he will die alone. As Arthur and Perry, Dean Ross and Stavros Sakiadis deliver a credible picture of the normalcy of a long-term relationship that periodically subsides into good-natured bickering. Patrick Teed brings a gentle warmth to his portrayal of Bobby, while Drake Evans appropriately focuses his characterization of Ramon on pride in his body and ambition in pursuing his career.
This production of Love! Valour! Compassion! offers a fine evening of theatre, but may pull some audience members out of their comfort zone a little too abruptly.
Love! Valour! Compassion! completed its run at Academic Hall, University of Ottawa on October 10.
By Terrence McNally
ToTo Too Theatre
Director: Chantale Plante
Musical director: Paul Legault
Choreographer: Jasmine Lee
Set and lighting: David Magladry
Sound: Robert Krukowski
Costumes: Glynis Ellens
Cast"
Ramon…………………………………………………Drake Evans
John/James…………………………………………….Lawrence Evenchick
Buzz……………………………………………………Josh Kemp
Arthur………………………………………………….Dean Ross
Perry……………………………………………………Stavros Sakiadis
Bobby………………………………………………….Patrick Teed
Gregory……………………………………………….Sean Toohey