Little Women: A heart-warming musical which hits the right notes.
Little Women: A heart-warming musical which hits the right notes.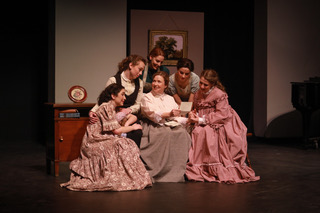 Reviewed by Natasha Lomonossoff
Performing a story onstage which originally came from a book is always a challenge of adaptation, even more so with one the scale of Louisa May Alcott's two-volume classic Little Women. With a running time of 2 hours and 40 minutes, musical theatre company Ain't Seen Nothing Yet's (ASNY) production of Little Women-The Broadway Musical at the Centrepointe Studio Theatre, directed by Jennifer Fontaine and Jacqueline Armstrong, successfully manages to present this story in a way that is not tiring. With a skilled cast and engaging musical numbers, one becomes easily attached to the March family through all of their trials and journeys.
As with the original novel, the musical version of Little Women (book by Allan Knee, music by Jason Howland and lyrics by Mindi Dickstein) tells the story of the March sisters and their mother Marmee set against the backdrop of the American Civil War. The main protagonist of the musical is Jo, the second oldest sister portrayed by Abbey Flockton, an aspiring writer who struggles to have her work published in New York City. Beginning with her twenty-second rejection since she's been in the city, the story then goes into the past at her hometown of Concord, Mass., where she and her family lead a simple but disadvantaged life (their father, never seen onstage, is a soldier fighting on the Union side). Despite their disadvantages, the ambitions of Jo and her sisters help to raise the family up materially and morally.
Flockton excels as Jo, perfectly capturing the character's rebellious and independent spirit through her facial expressions, voice and gestures. Jo's self-empowering solos of "Astonishing" and "The Fire Within Me" are when Flockton's singing shines the most. As the eldest sister Meg, Jennifer Venning gives a credible portrayal of a girl interested in romance and the conventional things of life. Her interactions with the man who later becomes Meg's husband, John Brooke (Andrew McDougall) is where one perhaps gets the truest sense of her character's innocence. Sydney Maloney is similarly credible as the shy and soft-spoken Beth; a highlight is when she and the neighbour Mr. Laurence (Christopher Natuik) perform a nice rendition of "Off to Massachusetts" together on piano. Finally, Madeline Hunter's portrayal of the youngest sister Amy is one of ever-reminiscent female prissiness and jealousy, with a well put-on tone of voice and puffy pink gown to match.
Nicole Milne gives a good performance as the family matriarch Marmee, balancing the character's firmness with warmth and motherly concern. Milne also delights as an accomplished singer, which is demonstrated in her character's solo numbers. Other notable performances come from Jo's earnest friend and initial admirer Laurie (Andrew Galligan) and the brash and wealthy Aunt March (Mary Ellen Vice).
Musical direction by Fontaine is spot on: at nearly all times of the show, the instruments produce engaging music that is never intrusive to the action onstage. On this front, musicians Kellina Gehrels and Sophia Pan (on piano and violin, respectively) also deserve credit. Choreography by Jacqueline Armstrong is also executed in a skilled manner; the ballroom dance scene is a good example, as the actors swiftly move between partners.
The strength of this production overall, however, comes from both its performative aspects and its ability to successfully impart feeling onstage. The bonds between the March sisters and their mother are amply represented onstage through the emotion with which the actors express their character's lines. The show makes one care about these characters-a fundamental strength which any musical needs in order to be emotionally effective. Within a small studio, ASNY presents a show which is as moving as it is enjoyable.