The Last Wife: One for the memory book
The Last Wife: One for the memory book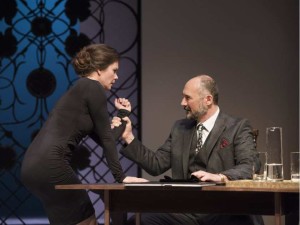 The Last Wife
By Kate Hennig
A CGCT/Victoria Belfry co-production
Directed by Esther Jun
GCTC to Nov. 20
It's rare to encounter as outstanding a fusion of creativity and on-stage talent as that now on display at GCTC. But this production of Kate Hennig's mesmerizing play, The Last Wife, is definitely one for the memory books.
We're in the turbulent world of Tudor England here — but again we're not. This examination of the dying days of King Henry Vlll's reign — and in particular the last of his marriages to the remarkable Catherine Parr  — is set in modern dress. It's an  audacious move, but it brings into bolder relief issues that never really go away  —  issues having to do with the elusive dynamics of personal relationships as well the ravaged reality of power politics, both global and domestic
Given that the high drama of the Tudor era has long been of consuming  interest in popular culture, the play's modern setting also proves to be liberating. We can escape all those defining images from cinema and television. We can shove aside Charles Laughton, Jonathan Rhys Myers, Richard Burton, Deborah Kerr, Cate Blanchett, Stewart Granger, Jean Simmons and those other star-driven celluloid symbols of Tudor times  and instead get closer to the more immediate emotional and moral truths surrounding the last of Henry's wives and her marriage to a tyrant capable of ordering her beheading in a sudden whiplash of anger.
Hennig's play — witty, psychologically astute and at times intensely moving — premiered to great acclaim at the Stratford Festival in 2015. We're now seeing it in a beautifully mounted co-production from GCTC and Victoria's enterprising Belfry Theatre. At their best, such partnerships provide a great service to Canadian theatre by allowing individual companies to pool resources for productions that otherwise might prove too costly to mount. On this occasion, the collaboration has given us a director of authority and sensitivity in Esther Jun. And it has introduced Ottawa audiences to a sterling designer in the person of Shannon Lea Doyle: she delivers a quietly brilliant set that manages to frame the drama superbly without evoking too specific a time and place, and has created costumes capable of meeting that trickiest of requirements — defining temperament. The result is that an accomplished production team ensures an exemplary cast the security to  give full and exciting utterance to Hennig's text.
What's interesting about Catherine Parr — or Kate, as we know her in this play — is that she outlived Henry. That's something of an accomplishment, given that he beheaded two of his previous wives. . But it was more than luck that saved her. The Catherine that actress Celine Stubel extracts from Hennig's nuanced script is a woman of wit, wisdom and occasional guile, who uses intellect and temperament, not to mention sensuality, to find common ground with a difficult and tyrannical spouse, and who is also capable of immense personal warmth. Catherine's relationship with her three stepchildren — the future Edward VI, Mary l and Elizabeth l  — provide the play with some of its most natural and endearing moments.
What also fascinates is the level of razor-sharp intellectual discourse that survives a household frequently boiling over with tensions. We're getting a Catherine who — unlike some of her predecessors — is a literate, educated woman married to a king of undeniable intellectual vigour while also dealing with exceptionally bright youngsters who are quite capable of discussing the philosophical intricacies of Aristotle or Plato.
Catherine, the play's pivotal figure, could no doubt be seen as a piece of wish fulfilment on the part of a clearly feminist playwright. But both Hennig and Stubel,who portrays the queen, avoid making her too good to be true. There's no denying Catherine's most significant achievement in convincing a stubborn Henry that his daughters must be restored to the line of succession. But her fallibility is there as well — not just in rashly assuming that she deserves a more powerful role in affairs of state, but in maintaining a dangerous relationship with Thomas Seymour, a caring lover but a shady opportunist.
Decades ago, Maurice Baring wrote a one-act comedy, Catherine Parr, which was popular in its time in giving us a grouchy, aging Henry complaining about his morning boiled egg and other indignities and finding himself repeatedly bested by his sharp-witted queen. The piece was a trifle but there was enough there to make the case for a more substantial dramatic study of this particular royal marriage.  But Hennig ultimately plays fair. In The Last Wife, the decks are not stacked against Henry, and in this current production Oliver Becker's marvellous performance ensures that we are in for a match between equals, both emotionally and intellectually.
Becker's Henry is a force of nature, his very presence on stage exuding power and the most frightening kind of entitlement. Yet there's also this need for real intimacy, emotional rather than physical, a need we suspect he actually fears, harnessed to an  touching vulnerability. This is a man who knows his strength is ebbing.
Auden Larratt gives an attractive performance as Edward, the future child king, a youngster whose intellectual curiosity carries hints of what he might have become, had he not died in his teens. As the future Queen Elizabeth l, Mahalia Golnosh Tahririha offers a pleasing precocity tempered with a child-like awareness that hers is a life at risk. But of the three children, the future Bloody Mary is the most interesting. Anie Richer and the script give us the dangerous outsider, tart-tongued and seething with barely suppressed fury over the treatment meted out to herself and her mother, the rejected Katherine of Aragon.
Making a further contribution to the volatile mix is Sean Baek whose job here is to make sense out of the twisted loyalties and ambitions of Thomas Seymour. It's not the easiest assignment for this accomplished actor, but he brings it off.
Kate Hennig has acknowledged that she was creating her own imagined world with this play. Indeed, she has — but it is a palpably real one in this smashing production.
Director: Esther Jun
Set and costumes: Shannon Lea Doyle
Lighting: Martin Conboy
Sound: John Gzowski
Fight director: Nicholas Harrison
Cast:
Thomas………………………………………………..Sean Baek
Henry…………………………………………………..Oliver Becker
Edward…………………………………………………Auden Larratt
Mary……………………………………………………Anie Richer
Kate…………………………………………………….Celine Stubel
Bess……………………………………………………Mahalia Golnosh Tahririha