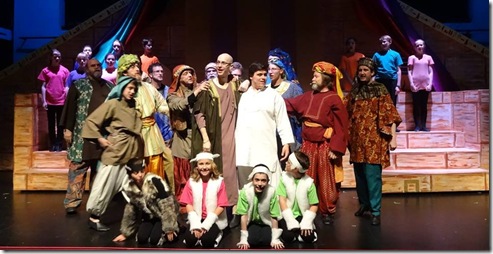 Photo: Alan Viau
The joy emanating from the stage is so infectious in the Suzart Productions presentation of Joseph and the Amazing Technicolor Dreamcoat that you overlook problem areas.
Never mind that the lighting operator has trouble focusing, periodically leaving Joseph and the Narrator in darkness at the beginning of their numbers. Never mind that several of the performers did not dispense with their spectacles before portraying folks in Ancient Egypt. It is not even a downer that poor enunciation makes some of the lyrics hard to understand or that not all the movement of chorus members is as crisp as it might be.
Beyond the high quality performances of the two leads, two featured actors and some of the dancers, particularly Nahtab Sabet, the standout characteristic of the show is the fun that all seem to be having with such themes as fratricide and being sold into slavery. 
The musical,3 based on the story of Joseph's coat of many colours from the Book of Genesis, was first staged in 1970, though lyricist Tim Rice and composer Andrew Lloyd Webber wrote it some two years earlier, well before their first hit, Jesus Christ Superstar.
As Joseph, Noah Grove, a fine singer with a strong stage presence, is highly effective — with or without his coat of many colours. And the silver-toned Kathleen Arbour, as the narrator, keeps the sing-through musical bubbling along.
In the featured role of the Elvis-impersonator Pharaoh, Jim Baldwin is hilarious and clearly having a ball with the role. And Tom Kobolak, as Simeon, one of Joseph's murderous brothers, has fun with the Edith Piaf spoof in Those Canaan Days.
One of the ongoing jokes in the show is the use of a variety of tempos and styles, from the country hoedown version of One More Angel in Heaven to the gentle rhythm of the Benjamin Calypso.
In general, director Alan Viau manages the large cast well, though there are still moments when the stage seems too crowded, despite Elaine McCausland's economical and adaptable set design.
Suzart's Joseph and the Technicolor Dreamcoat played at the Centrepointe Studio Theatre from May 21 to 25, 2014.
Joseph and the Amazing Technicolor Dreamcoat
Lyrics by Tim Rice; Music by Andrew Lloyd Webber
Suzart Productions
Director: Alan Viau
Musical director: Catherine Spear-Ducasse
Choreographers: Valerie Ladouceue and Anna Séguin
Set, sound, puppet design, technical director: Elaine McCausland
Lighting: Alan Viau and Dave Corbishley
Costumes: Maureen Russell
Cast:
Narrator……………………………..Kathleen Arbour
Joseph……………………………….Noah Grove
Reuben…………………………….Dave Corbishley
Levi/Potiphar………………………Marc Lessard
Isaachar…………………………….Chris Hulan
Dan…………………………………T.J. Wong
Gad………………………………….Alex Shephard
Judah………………………………..Marc Séguin
Jacob…………….Adam Goldberg
Simeon……………………………..Tom Kobolak
Naphthali……………………………Scott Shephard
Asher/Butler………………………..Michael Schilder
Zebulon/Baker………………………Jay Landreville
Benjamin……………………………Jake Hamilton
Mrs. Potiphar………………………..Dani Bone-Corbishley
Pharaoh………………………………Jim Baldwin
Camel………………………………..Clarisse Chameau
Adult chorus:
Jim Baldwin, Mackenzie Breeze Bone, Dani Bone-Corbishley, Tricia Curtis, Sarah Dee, Janine DeMan, Rachel Duchesneau, Myriam Laliberté, Nadine Levin, Peter Maitland, Alison Manning, Elaine McCausland, Katie McLaren, Kayla McSorley, Rachel Rumstein, Mahtab Sabet, Charlotte Scott-Frater, Tara St. Pierre, Rita Thompson, Gwyneth Whalen-Hughes, Katie Zeman-Maitland
Youth chorus:
Joey Arbour, Kadence Bennett, Zander Bone, Bernice Corbishley, Grace Cosgrove, Jack Dillabough, Maddie Fulford, Kieran Gerbis, Tate Holm, Kyla Kenny, Lily Meyer, Maya Ruckenstein, Bella Szpala, Cassidy Van Bavel, Bryanna Watt