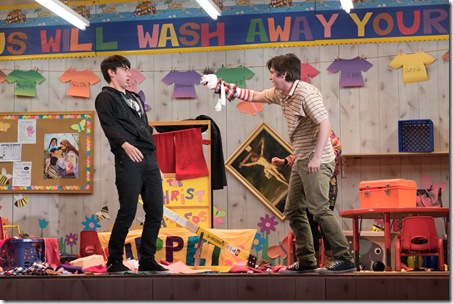 Photo: Glenn Perry
Hand to God is both a farce and satire of religion and suburban life in Cypress, Texas. First produced off-Broadway in 2011, its writer Robert Askins was an unknown working as a bartender with a few unsung off-off Broadway plays to his credit. Hand to God went to Broadway, became a tremendous hit, and received several Tony nominations. Now as it makes the rounds of the regionals, Boston's SpeakEasy Stage Company is presenting its New England première.
Although the production (or is it the play?) lags at times especially at the opening, it grows funnier and funnier and more and more frenetic as it moves along. The storyline revolves around a religious hand puppet club, held in a church basement, whose three adolescent members are supposed to create sock puppets and Christian skits to be performed for the congregation. Upstage a poster hangs inscribed with the group's name: The Christcateers. Jason (Eliott Purcell), spends most of his time with his devilish puppet Tyrone, evidently working through his feelings. Margery (Marianna Basham) Jason's newly widowed and distraught mother runs the puppet ministry presumably on the advice of the nerdy Pastor Greg (Lewis D. Wheeler) who is attracted to her. Jessica (Josephine Elwood) is involved because she has a secret crush on Jason and an interest in Balinese puppets, while Timothy (Dario Ladani Sanchez) joined because he too is infatuated with Margery despite their age difference. Although the idea of a religious puppetry club struck me as outlandish, the playwright belonged to a similar group as a boy in Texas.
The prologue introduces the audience to the puppet Tyrone who sticks his head through the curtain to recount in a brief speech the history of the growth of civilization and its dependence on and love for the Devil rather than God. Although the play is not contingent on the prologue, it sets the tone.
The protagonist Jason is in thrall to his alter ego, the sock puppet who is always on his arm. Tyrone allows Jason to act out his frustrations and anger, particularly against Timothy who not only bullies him, but eventually has a hot affair with Margery who having left her religiosity behind responds passionately. Somehow, Tyrone grows teeth and bites off Timothy's ear lobe during a vicious fight. Mysterious anti-religious events take place. The characters' language becomes as naughty as Tyrone's although at first Pastor Greg resists, instead spouting "son of a biscuit" when upset.
Jason's problems are at least partially resolved when Tyrone indulges in sex with Jessica's puppet. In an extremely funny scene, the two dolls, manipulated by their owners, display Jessica and Jason's desires as they grunt and heave. The relief this brings to Jason allows him to rid himself of Tyrone which is no easy task.
Eliot Purcell is excellent in the dual role of Jason/Tyrone in which he plays both his adolescent shyness and misery and his capacity for cruelty. Marianna Bassham is fine as the neurotic mother. Lewis D. Wheeler gets all the humor out of the would-be do-gooder Lutheran minister. Dario Ladani Sanchez shows us his character's swaggering and dependent sides. Josephine Elwood does the best she can with a role that allows her little stage time.
Hand to God written by Robert Askins
Directed by David R. Gammons
Scenic Designer ………. Christine Todesco
Costume Designer …….. Gail Astrid Buckley
Lighting Designer ………Jeff Adelberg
Sound Designer …………Andrew Duncan Will
Puppetry Director ..…….. Roxanna Myhrum
Puppet Design …………. Jonathan Little
Performance at the Calderwood Pavilion at the Boston Center for the Arts until February 4.