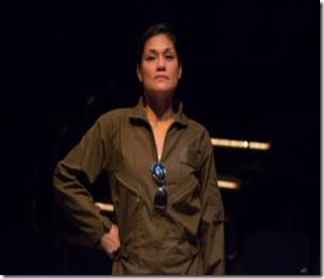 Photo: A. R. Sinclair.  Celeste Oliva
George Brandt's Grounded is a highly political one-woman show that tells a direct and complex story of the new role of women in warfare. The character's symbolic aspect is emphasized by her lack of a name. She is simply The Pilot. The play is expressionistic in style in that the audience viscerally experiences her inner world. No opposing view exists.
The character, wonderfully played by Celeste Oliva, has risen to the rank of Major as a fighter pilot engaged in air to ground warfare, a role in which she takes enormous pride and pleasure. Flying in the "blue," as she calls it, killing "the guilty," in this case young male Iraqis, makes her feel righteous, "part of the sky," administering punishment like a god.
Off-duty, she hangs out drinking with her "boys," strutting about in her flight suit, proving her toughness. This is the world she loves. On leave in the States, she meets Eric, as tender as she is cocky. She becomes pregnant; Eric, moved to tears by the news, convinces her to marry him. The downside is that Air Force regulations ground pregnant women. Marriage and particularly motherhood change and soften the Pilot without satisfying her.
Upon returning to the Air Force, she discovers that the world of war has changed. Fighter planes are becoming obsolete. She is assigned to the "chair force" as a drone pilot, who now kills the guilty in a far-away desert, presumably Afghanistan or Pakistan, from an office chair in Las Vegas. The freedom of the skies is gone as well as any personal danger from the enemy.
Twelve hours a day, seven days a week she peers at a gray and fuzzy world, surveilling and killing those whom she decides are possible threats to the US. At times, she becomes excited as if playing a video game, at others, she falls asleep worn out from the long days. Driving back and forth between her two worlds, home – where she watches her daughter sleep – and work at the air conditioned trailer begins to take its toll, as does the realization that she is killing real people whom she sees in close-up as their bodies are torn apart. She becomes delusional, guilty, lost, fearful of being watched – as she has watched – by an ever vigilant eye.
Celeste Oliva is a strong and dynamic actress who has taken on external macho characteristics so successfully detailed they are sometimes caricature. This acting strategy allows the audience to understand how difficult it is for a woman, no matter how motivated, to make it in a male world. Motherhood introduces the Pilot to unknown elements of her personality. Eventually, she is crushed by her incompatible life, stress, and perhaps her superiors in the Air Force. Oliva plays the Pilot's contradictory qualities believably and fully.
The production is staged arena style by Lee Mikeska Gardner . Steven Royal's set is very simple, its only prop a wooden swivel desk chair. Suspended above the stage is a circle of television screens, which for the most part show pixelated images, perhaps representative of drone views, perhaps emblematic of the character's growing confusion and breakdown. Although the set suffices, a little more imagination and clarity would have better served the text.
Runs until March 22, 2015 at the Central Square Theatre, Cambridge, MA
Written by …….. George Brant
Directed by …….. Lee Mikeska Gardner
Scenic Design …. Steven Royal
Lighting Design …Wen-Ling Liao
Sound design …… Dewey C. Dellay
The Pilot ……….. Celeste Oliva