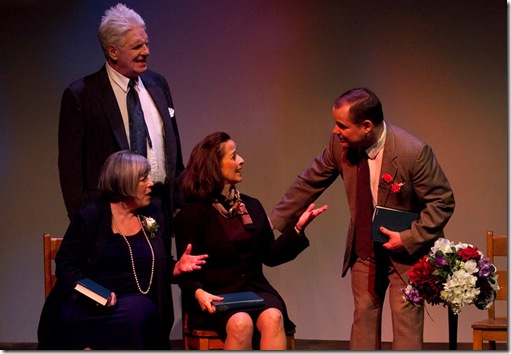 Photo: Maria Vartanova
The familiarity of the songs Vera Lynn made famous during World War II settles an audience into a comfort zone as the show begins.
Attractively presented by Arlene Watson in the Ottawa Little Theatre production of Goodbye Piccadilly by Douglas Bowie, all is well with the world through such numbers as We'll Meet Again until the pianist runs off mid-song — a situation that is not explained until late in the show.
A family drama/comedy/borderline farce about the awkward connection between two families, Goodbye Piccadilly is styled in short sequences that are a constant reminder of the playwright's background in screenwriting.
Strong direction by Sarah Hearn and some good performances from the five-member cast do much to overcome the slowness of scene changes and the difficulty of suspending belief long enough to accept the premise or the unlikely resolution of the play. Such moments as the angry hymn sing-off between Bobbie and young Cecil are very funny and Watson's beautiful singing throughout the show would give any script a lift, but can't rescue it completely.
First we learn that an apparently honourable and generous man who has just been awarded the Order of Canada, has been living a lie for close to half his life. Then we are asked to accept his wish of a specially blended family, particularly when they experiment with sharing the management of the family B&B. It doesn't work for me.
What does work is the bubble of Andi Cooper as young Cecil, the authoritative performance of Joyce Landry as the "hero's" competent daughter, Bobbie, the solid and warm performances of Janet Uren and Arlene Watson as the two women in his life and in the awkward role of Brick Brickley, Mike Kennedy's effort in moving from ethereal presence to living being and back again.
The technical aspects of an attractive set by Andrew Hamlin, fine lighting by David Magladry, sound by Lindsay Wilson and accurate costuming by Monica Browness round out a strong production, stopped just short of farce by Hearn's directorial control. Even so, it is not difficult to say farewell to aspects of the script of Goodbye Piccadilly.
The OLT production of Goodbye Piccadilly continues to April 11.
Goodbye Piccadilly
By Douglas Bowie
Ottawa Little Theatre
Director: Sarah Hearn
Music direction: Skye MacDiarmid
Set: Andrew Hamlin
Lighting: David Magladry
Sound: Lindsay Wilson
Costumes: Monica Browness
Cast:
Bess Brickley…………………………………….Joyce Uren
Roberta Brickley…………………………………Joyce Landry
Cecil McCooey…………………………………..Andi Cooper
Brick Brickley……………………………………Mike Kennedy
Kitty McCooey…………………………………..Arlene Watson