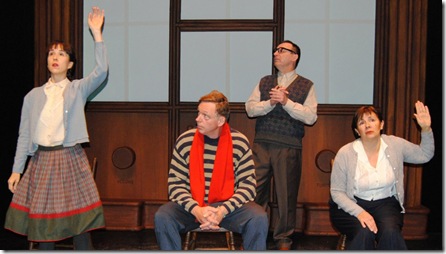 Photo: Barb Gray
On one level, GCTC's sterling production of Angel Square might seem to offer no more than a series of impressions of a particularly beguiling kind.
But they're impressions that beautifully evoke another time and place — Lowertown Ottawa in the 1940s. And out of them there emerges a delightful stage work of genuine shape and substance.
It's through the prism of an observant youngster named Tommy that these moments unfold. Even if we weren't actually there ourselves, we find ourselves engulfed in his childhood world. And its components resonate with us today.
It's a world of Woolworth stores — remember them? — with creaking wooden floors. Of Ottawa's majestic Union Station, now an underused government conference centre, but in this production exerting a ghostly remembrance of things past, courtesy of designer Jock Munro.
Of the legendary tunnel connecting the railway station to the venerable Chateau Laurier. Of the long-defunct Ritchie Feed and Seed Store in the Lower Market — an establishment whose products play a significant role in the story.
And, on a distinctly human level, it reflects the world of a budget-minded mother deciding on mock duck for the day's big meal — and that's a dish that this reviewer hasn't thought about for decades.
There's also Angel Square itself — a neighbourhood fixture where bad things happen, and also good things, where the canker of religious and cultural bigotry manifests itself, and also where barriers are broken down and unlikely friendships emerge.
Director Janet Irwin, working from her own adaptation of Brian K. Doyle's 1984 novel, is dealing with the fluidity of memory here. She's also working with four adults who must take on a variety of characters, most of whom are young, and who must help those of us in the audience to maintain our own collective suspension of disbelief. So it's a shimmering sort of reality that emerges from this production, but it is nonetheless a reality firmly anchored in emotional truth and a palpable sense of community.
Indeed, it has the tone and texture of one of Woody Allen's best-loved films, Radio Days — and anyone who is a fan of Allen's affectionate glimpse of a New York childhood, will embrace Angel Square. Play and production also carry reminders of Norman Levine's early short stories about an Ottawa childhood. But ultimately, they reflect the kindly, humane story-telling sensibility of Brian Doyle.
The dominant presence on the GCTC stage is an old-fashioned wooden radio, with an equally old-fashioned non-digital dial. It's a transport of delight for young Tommy, allowing him to escape into the crime-fighting world of The Shadow (a.k.a. wealthy playboy Lamont Cranston) a mysterious radio hero whose sepulchral voice was originally created by Orson Welles. The Shadow is the inspiration for Tommy's decision to turn himself into a junior detective determined to find out who beat up the father of his closest friend, Sammy Rosenberg.
So we are dealing with big issues here — issues that transcend the minutiae of school and family and the magic of radio in the days before television. The young characters in this play may be unaware of how subtly such issues do inter-link with their daily lives — but the connections are visible to us in this seamless and affecting production.
Despite evidence of uncertainty with some of his lines, Bruce Spinney convincingly inhabits the persona of 12-year-old Tommy, a kid of decency, loyalty and determination. Some may see it as an idealized portrait, but it isn't. This Tommy can also be fallible.
Spinney's three acting colleagues — Mary Ellis, Robert Marinier and Kristina Watt — are the ones taking on a multiplicity of characterizations. Ellis displays a marvellous dexterity in switching identities, Marinier can play a caring dad and apoplectic teacher with equal resourcefulness, and Kristina Watt disarms as a perky Jewish kid and then chills the marrow as a playground bigot conditioned by family prejudice.
It's a warm-hearted production, reflecting the original material's belief that goodness will ultimately prevail in an often troublesome world. It can also be funny: one marvellous moment, recalling a comic high point of Alfred Hitchcock's 1934 classic, The Man Who Knew Too Much, is characteristic of Irwin's inventiveness as a director.
However, there's a further reason why Angel Square should be celebrated. It is an unabashedly, unapologetic piece of populist theatre. It embraces a tradition sadly ignored in the playbills of many of our theatres in recent years. But it's a noble tradition in its honouring of the lives of ordinary people. Whether it's the heyday of Joan Littlewood's Theatre Workshop in the Britain of the late 1950s, or the pioneering work of George Luscombe's legendary Toronto Workshop Productions, or the miracle of Southern Ontario's Blyth Festival (where current GCTC boss Eric Coates spent a decade as artistic director), populism has always proved to be a vibrant and valid theatrical force. That is resoundingly evident both in GCTC's current production of Angel Square and also in its previous triumph, Jake's Gift. We must keep a close eye on what's happening on Wellington Street.
Angel Square
Adapted and directed by Janet Irwin
Based on the book by Brian Doyle
A production by the Great Canadian Theatre Company
Irving Greenberg Theatre to December 20.
Set, lighting and projections……….Jock Munro
Sound………………………………Jon Carter
Costumes…………………………..Vanessa Imeson
Cast:
Mary Ellis
Robert Marinier
Bruce Spinney
Kristina Watt