GCTC brings Hannah Moscovitch's What A Young Wife Ought to Know to the Stage with Intimate Performance
GCTC brings Hannah Moscovitch's What A Young Wife Ought to Know to the Stage with Intimate Performance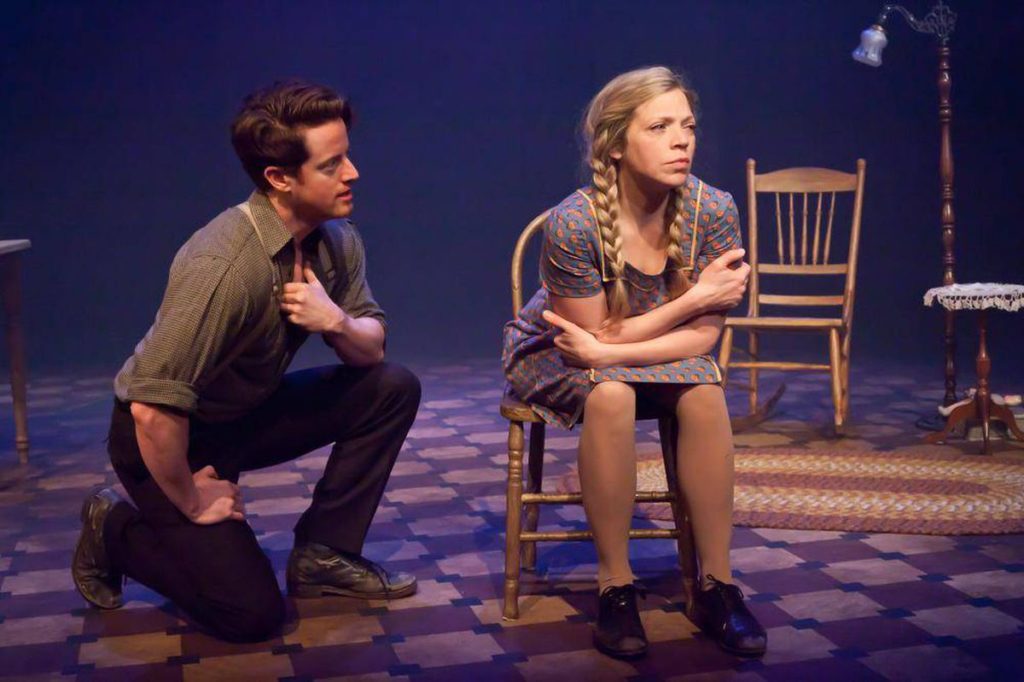 Reviewed by Kellie  MacDonald.
                Cold, dirty, ugly, and boring: Hannah Moscovitch's descriptions of Ottawa in the 1920s do not shy away from the grim realities of factory labour and tenement housing. Sisters Sophie (Liisa Repo-Martell) and Alma (Rebecca Parent) navigate an era of of rapidly changing attitudes towards sexuality, but still find themselves at the mercy of medicine, a patriarchal society, and entrenched class structure. Directed by Christian Barry, Ottawa-born Moscovitch's What A Young Wife Ought to Know is produced by Halifax-based 2b Theatre Company and presented by the Great Canadian Theatre Company at the Irving Greenberg Theatre Centre.
Moscovitch constructs Sophie as the first-person narrator (a standard device of several of Moscovitch's previous plays) to build a narrative that balances on a knife's edge between humour and devastating tragedy. While Repo-Martell didn't always achieve a desired emotional authenticity when portraying preteen Sophie, she comes into her own beautifully as a young mother struggling within the narrow confines of her role in society. Likewise, Parent's Alma, Sophie's cruel older sister, strikes a moment of heartbreaking vulnerability when she confesses her out-of-wedlock pregnancy.
Alongside Repo-Martell and Parent, David Patrick Flemming plays Irish immigrant labourer Johnny. Flemming's Johnny is magnetically charismatic, desired by both sisters. The emotional core of the play hinges on the chemistry between Repo-Martell and Flemming, which is undeniable in this production. For a play about sexuality, Barry's astute direction has avoided the common pitfalls of sex on stage. The sex in What A Young Wife Ought to Know is neither crude nor exploitative. In fact, Repo-Martell and Flemming are at their best as they trade longing glances and candlelit embraces, displaying an intimacy more powerful than mere flesh on stage.
With this production, the GCTC continues to excel in programming work that suits the intimacy of its 262-seat theatre. Together the lighting (Leigh Ann Vardy) and set design (Andrew Cull) evoke multiple spaces — from hotel stables to Sophie's cramped apartment — with only a handful of elements: table, rocking chair, lamp, kettle. By keeping the design minimal, the production underscores the domesticity of the piece and allows the raw emotional quality of the performances to shine through.
Though today's audience many seem far removed from the 1920s, now nearly a century later, Hannah Moscovitch's What A Young Wife Ought to Know reminds us that history threatens to repeat itself as countries such as the United States and Ireland debate women's basic rights to healthcare. This masterful production from 2b Theatre is darkly humorous and chilling all at once.
What A Young Wife Ought to Know plays at the Great Canadian Theatre Company's Irving Greenberg Theatre Centre until February 4, 2018. For tickets please inquire at the theatre box office or online at http://www.gctc.ca/plays/what-young-wife-ought-know.