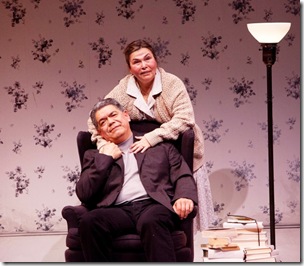 Photo: Magnetic North handout.
Hard to say when Margo Kane shines brightest in Michel Tremblay's warm memory play about his mother Nana.
Maybe it's when, wearing Nana's perennial outfit of kerchief, apron and sensible shoes, she imitates an ill-coordinated 15-year old ballet dancer to accompany one of the endless and endlessly funny stories Nana tells to her affectionately long-suffering son, played by Lorne Cardinal.
Perhaps it's when Nana imagines disguising herself in a gas mask to avoid embarrassment at church after her son has, in her overactive mind, committed a heinous crime.
Or maybe it's when, tired from her daily round of washing and cleaning and looking after a family in 1950s working class Montreal, she eases herself into a chair at the arborite kitchen table only to be up and about again in a thrice, her body as active as her gift for melodramatic storytelling.
Pick the scene that's your personal favourite: Kane is terrific in them all. Ditto Cardinal who plays Tremblay from ages 10 to 20 when, sometimes despite himself, he's drawn in time and again by the force of this woman's personality and restless imagination.
Directed by Glynis Leyshon, the show moves fluidly from funny to wistful to touching while sidestepping mawkishness or candy-coating Nana's conniving and sharp-clawed side.
Kane, who muffed some lines on opening night and let the action droop momentarily toward the end of the show, forges with Cardinal a powerful connection as they depict Nana and her son. That mother-son relationship, their mutual love of stories, and the sheer enjoyment they take in sharpening their wits on each other lift them into a place far removed from the straightened circumstances of their daily lives. That lifting quite literally inspires the show's final, surprising scene.
Tremblay's mother died of cancer when he was just 20 but not before nurturing in him the desire to become the writer he is. Kane and Cardinal do that story proud.
Continues to June 11. NAC box office, 1-888-991-2787, ticketmaster.ca/magneticnorth, magneticnorthfestival.ca. The Magnetic North Theatre Festival continues until June 15.
A Western Canada Theatre Production (Kamloops, B.C.)
National Arts Centre Theatre  at the Magnetic North.
Reviewed Friday, June 7
© Copyright (c) The Ottawa Citizen
Read more: http://www.ottawacitizen.com/entertainment/movie-guide/Theatre+Review+Pleasure+Seeing+Again/8496876/story.html#ixzz2VfAkOXOL