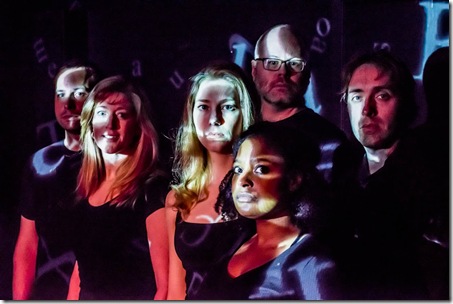 Photo of cast. Courtesy of John Koensgen and the Extremely Short New Play Theatre Festival
11 short plays presented one after the other , each one lasting a maximum of 10 minutes, selected out of a total of 150 from all over the continent, is a definite sign that this "Short New Play" event is catching on and enticing young writers to submit their work. Judging by what we saw opening night (Saturday Nov. 27) at the Avalon Theatre on Bank St. there are several individuals who can write for the stage and who are not at all hampered by time constraints, in fact it seems to propel their writing on. The difficulty is usually how to finish the piece and make it all tie together, or finish the evening by opening a new door to something even more exciting, distressing or disturbing!
Check –in by Ron Frankel is a lively, smart, fascinating moment at a hotel reception desk where a man (Ray Besharah) arrives to check into the room he thought he had reserved. As is the case with Ionesco, a simple everyday event sets off a near catastrophy and this becomes à frustrating encounter with the employee at the front desk (Linda Webster) as the dialogue revolves around the growing absurdity of the rules of the house but the woman represses her anger and keeps her cool. What happens when you reserve and there are no rooms: What happens when there are rooms and you have a reservation but you still cant get a room although someone without a reservation can! The dialogue is very clever, the confusion and the contradictions build rapidly until the poor client is ready to tear out his hair. Finally, he understands how it all works, and his revenge is almost complete! This exchange, bordering on a moment that could be taken from the stage world of Ionesco as all logic falls apart but the language remains fairly realistic,  was well paced, and performed with much appropriate emotion.  The couple kept the tension high and the frustration built thanks also to John Koensgen's direction which allowed it to play itself out the perfect way. The sign of a budding professional playwright here.
The Cold Blue Flame of Love by Brian K. Stewart. Obviously a hangover from the Harper era where the Canadian government was doing its best to muzzle scientists and prevent them from spreading the results of their research. A story no doubt fed by numerous news paper stories about this kind of situation that was periodically told in the Canadian press. Stories about angry local heroes ready to spill the beans and especially annoyed because they were told to muzzle it when Harper and friends saw the dangers to health involved. !! The confrontation is classic! On stage we see the victim(a woman) who refuses to defend herself, a voice of authority (also a woman) who represents the employer and who insists that the law be respected. At the same time we see the trade union rep who cant get a word in edgewise because the two women are going at each with great gusto. A sudden twist at the end reveals where the real treachery lies and transforms this confrontation into a political monstrosity. Another excellently contructed play, carried off by Laura Hall as the steadfast scientist, Linda Webster as the employee who tries to contain the scientist.
B4U know it by John Levine , shows the life of a compulsive on-line shopper. The wife regularly unhappy, overacts and seems to pretentiously explain why on-line shopping is bad for you, and becomes overly didactic which makes the wife overact. Weakness in the writing is evident. Soon a delivery person arrives strangely in advance and the couple wonders how she knew what they wanted so quickly. . The performances of the couple are oppressive because the woman especially appears to be overacting most of the time however the delivery girl (Jinesea Lewis) was very effective and she added much mystery and much discomfort as she actually seemed to become a disturbing presence from another dimension whom we felt we might want to examine in the near future.
The Patient by James Belich, began in a doctor's office as a nurse questions this new patient but the little clues dropped by the bewildered patient quickly tell us where we are and what is happening. Such a story has been done before in other contexts and although it was well acted, it lacked originality until it slowly became a metatheatrical analysis of the space, the way theatre is carried out and how it all works.
War on Thugs by Brad Long , was an interrogation in a police centre which felt like so many of those TV shows where cops interrogate a young woman who seems to be a police informant but was mixed up in a drug deal and other things. Her credibility is on the line and she is trying to defend herself and find an alibi. The dialogue was well written although it did have a slight feeling of déjà vu. A slight twist before the end set the stage for a dénoument that could possibly have a good outcome. Short and satisfying in spite of the TV references but what this lacks in originality is made up by the acting which was very good and the characterization of the females (Jinesea Lewis as the young informant and Linda Webster as the cop) are set up with opposing rhythms and personalities . This writer has a gift for developing characters.
Hitchers by Joe Purcell and Kate Danley, takes place in a moving car with 3 individuals! It appears to be a farfetched, horrifying parody of an Alfred Hitchcock movie which is very funny, very original and horridly amusing. I say no more because I don't want to give it away. It's a succession of surprises that must be kept secret. Enjoy!
Anniversary by Ronit Rubinstein. A couple celebrates is first 'magic' year of marriage but simultaneously, we see them celebrating their 30th wedding anniversary in the same restaurant at a nearby table. Time is compressed into a few minutes as we see how the relationship has undergone some important changes. Good writing that held our attention but it was built on a basic gag that soon ran out of steam because we knew what to expect. There was something about this that felt like a tried and true formula which could not fail. Still, it was entertaining theatre and it only lasted 10 minutes..! so we were never bored.
As for the Avalon theatre itself, during the evening, this intimate tiny space has its own lighting system and unfortunately, the magic posting on a screen upstage broke . It was very effective during the first half of the program but after that stopped we had to guess when one skit ended and the other skit began for the second half of the evening. The performance made excellent use of the small Avalon space and the seating was comfortable with the site lines being resolved quite rapidly.
The Extremely Short New Play Festival  certainly merits our attention and its a good evening at the theatre. Some of the talent is quite remarquable.  It takes place at 8pm at  the Avalon on Bank St between Second and First avenue, one flight up. Seating is limited so get there early. All plays are directed by John Koensgen and the team includes  costume design by Vanessa Imeson, sound design by Andrew Alexander, lighting design by David Magladry.
Cast includes:Ray Besharah, Laura Hall, Jinesea Lewis, Josh Sparks, Linda Webster, Paul Williamson.