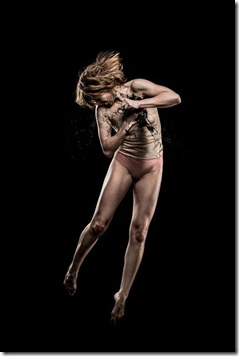 Photo: Penguin.JPG    Virginie Brunelle.
Cathy Levy established an NAC Associate Dance Artists program in 2007, with the goal of creating a community of artists and giving them an opportunity to meet and explore ideas with each other and with some of the greatest dance artists from around the world. Three of these eleven Associate Dance Artists will be featured on a special evening entitled The Associates in March of 2017. Work by Marie Chouinard, Crystal Pite, and Christopher House, will no doubt delight audiences.
NAC Dance is also proud to present Les Grands Ballet Canadiens de Montréal and The National Ballet of Canada as well as co-produce new work by Montreal's Virginie Brunelle.  We also have the chance to celebrate Canadians working abroad with Germany's Gauthier Dance, founded by Canadian Dancer Eric Gauthier.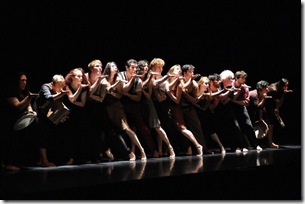 Photo: Regine Brocke, Gauthier Dance.
RETURN VISITS
Highlights include return visits by international superstar Sidi Larbi Cherkaoui and his company Eastman, NAC Associate Dance Artists Crystal Pite, Marie Chouinard and Christopher House; Montreal's Virginie Brunelle, America's dazzling Hubbard Street Dance Chicago; and Israel's incomparable Batsheva. Shanghai Ballet returns after a long absence, Les Ballets Trockadero de Monte Carlo returns with their unique flare as well Albert Ballet with their festive special The Nutcracker; and The National Ballet of Canada makes their annual visit with Onegin, an exquisite romantic classic.
NAC DEBUTS
The season includes first visits to the NAC by Compagnie Hervé Koubi, Gauthier Dance and Dorrance Dance. Series C artists Lisbeth Gruwez and Alessandro Sciarroni are also making their NAC debuts. 
CHOREOGRAPHERS
The dynamic work of more than 20 choreographers will be performed throughout the 2016-17 season. They include Xin Lili (China), John Cranko (South Africa), Emily Molnar (Canada), Guillaume Côté (Canada), Jean Grand-Maître (Canada), Crystal Pite (Canada), William Forsythe (United States), Alejandro Cerrudo (Spain), Johan Inger (Sweden), Nacho Duato (Spain), Mauro Bigonzetti (Italy), Ohad Naharin (Israel), Michelle Dorrance (United States), Sidi Larbi Cherkaoui (Belgium), Marie Chouinard (Canada), Christopher House (Canada), Hervé Koubi (France), Lisbeth Gruwez (Belgium), Alessandro Sciarroni (Italy), Virginie Brunelle (Canada).
MORE ABOUT THE 2016-17 NAC DANCE SEASON
BALLET SERIES (Three productions in Southam Hall – All performances feature the National Arts Centre Orchestra)
Shanghai Ballet: Giselle
November 10-12, 2016
Embrace one of the most beloved of the great classical ballets – Giselle – as the prestigious Shanghai Ballet performs this heart-wrenching tale of a lovely peasant girl betrayed in love. Choreographed by Marius Pepita and later adapted by Xin Lili, this performance will prove to be an unqualified triumph as the Shanghai Ballet, noted for the elegance and superb technique of its dancers, returns to the NAC for the first time since March 1989!
The National Ballet of Canada: Onegin
January 19-21, 2017
Based on Pushkin's epic poem and the hugely popular opera by Tchaikovsky, Onegin shares a tale of enduring love brought to life by the exquisite virtuosity of the dancers of the National Ballet of Canada and the superb narrative choreography of the legendary John Cranko. Cavalier flirtations, petty jealousies and a violent duel play out against the romantic splendour of Imperial Russia in this much anticipated revival that has garnered unanimous acclaim and instantaneous standing ovations. The National Ballet of Canada was last at the NAC in 2015 with Alice's Adventures in Wonderland; they will next be at the NAC in April, performing La Sylphide.
ENCOUNT3RS: New ballet & music creations from exceptional Canadians
April 20-22, 2017
AN NAC DANCE & NAC MUSIC COMMISSION
This landmark NAC Commission pairs three of Canada's exceptional choreographic talents with three of the country's most exciting composers. Guillaume Côté, gifted dancer and choreographic associate with the National Ballet of Canada is perfectly paired with emerging composer Kevin Lau, Ballet BC's Emily Molnar meets her musical match with composer Nicole Lizée, and eminent Alberta Ballet choreographer Jean Grand-Maître joins forces with multiple award-winning music visionary Andrew Staniland. Three outstanding new one-act ballets with original orchestral scores will be performed for the first time by dozens of dancers together with the National Arts Centre Orchestra under the baton of music director Alexander Shelley. An unparalleled event to mark Canada's sesquicentennial!
SERIES A (Four productions in Southam Hall)
Hubbard Street Dance Chicago: Mixed Program
November 22, 2016
Acclaimed for a stunning body-brain synchronicity, Hubbard Street Dance Chicago is among the most original forces in contemporary dance today. The company's dancers are captivating in an exhilarating mixed program comprised of William Forsythe's N.N.N.N. and One Flat Thing, reproduced; Jiří Kylián's Falling Angels, Crystal Pite's A Picture of You Falling duet, and resident choreographer Alejandro Cerrudo's Second to Last. Hubbard Street Dance Chicago was last at the NAC in 2013, performing One Thousand Pieces.
Les Ballets Trockadero de Monte Carlo: Mixed Program
February 17, 2017
Les Ballets Trockadero de Monte Carlo, or the "Trocks" as they are affectionately known to their devoted fans, are bringing their unique brand of polished parody back to the NAC. You can't help but smile when the glamorous all-male company dons tutus, pointe shoes and false eyelashes to perform classical ballet repertoires. Then something amazing happens – their athletic artistry, grace and technical expertise makes you forget that the prima ballerina is in fact a man! Les Ballets Trockadero de Monte Carlo was last at the NAC in 2009.
Gauthier Dance // Dance Company Theaterhaus Stuttgart: Now and Now, Bach Duet and Cantata
March 11, 2017
Gauthier Dance // Dance Company Theaterhaus Stuttgart is acclaimed for its witty, sophisticated and skillful performances, thanks largely to the appealing artistic vision of Canadian dancer/founder Eric Gauthier. Performing a luscious mixed program including Johan Inger's Now and Now, Nacho Duato's playful Bach Duet and Mauro Bigonzetti's Cantata, Gauthier cements its reputation as one of the most entertaining companies on the contemporary ballet scene. Germany's Gauthier Dance makes its NAC debut.
Les Grands Ballets Canadiens de Montréal: Minus One
May 6, 2017
Israeli choreographer Ohad Naharin is a leading light in contemporary dance, drawing on seven previous works to meticulously craft a touching homage to dance and dancers. Minus One invites the artfully versatile dancers of Les Grands Ballets Canadiens de Montreal – renowned for their work in contemporary ballet – to surrender themselves to the dance, becoming both interpreters and inventors of movement. This work is comprised of solos and large-scale pieces where gestures are full of grace, agility and humour. GBCM were last at the NAC in March 2014, performing Rodin/Claudel. 
SERIES B (Five productions in the NAC Theatre)
Dorrance Dance: ETM: Double Down
October 14-15, 2016
As a 2015 MacArthur Fellow and visionary tap dancer/choreographer, Michelle Dorrance is breathing dramatic new life into this traditional American dance form. ETM: Double Down, a collaboration with Bessie Award winner Nicholas Van Young, is a fusion of acoustic and electronic sound – the high octane performers dancing across platforms and boards, tapping out elaborately choreographed phrases while simultaneously playing a musical composition. With an unstoppable creative energy, the new superstar creates an electrifying tap performance! Dorrance Dance makes its NAC debut.
Eastman / Sidi Larbi Cherkaoui: Fractus V
November 18-19, 2016
AN NAC DANCE CO-PRODUCTION
Inspired by the writings of political philosopher Noam Chomsky, Fractus V investigates the importance of skepticism in a world where information is increasingly manipulated. Performing to live music by artists from Japan, Korea and India, five dancers each from different dance backgrounds seem to merge into one, fluidly expressive, powerful whole and then dissolve into solos that honour each artist's unique style. Don't miss this rare opportunity to see Sidi Larbi Cherkaoui perform a Canadian exclusive at the NAC! Sidi Larbi Cherakaoui's work was last at the NAC in 2015, with m¡longa.
Batsheva Dance Company: Last Work
January 11-12, 2017
With its shifts from sustained, meditative movement to frenzied bursts of energy, Last Work is being hailed as yet another masterwork from Israeli choreographer Ohad Naharin. Batsheva's outstanding dancers, all trained in Naharin's uniquely expressive dance lexicon "Gaga," inhabit every sinuous gesture, every staccato jerk, embodying the belief in the healing, dynamic, ever-changing power of movement. Batsheva Dance Company was last at the NAC in 2003, performing Three.
The Associates
March 23-24, 2017
Initiated to create and foster a mutually enriching community of artists, the NAC Associate Dance Artists program bears witness to the enormous wealth of dance talent in Canada. This evening features works by three Associate Dance Artists: Marie Chouinard's legendary solo Étude no 1 danced in steel-toed shoes; Crystal Pite's A Picture of You Falling performed by the astonishing duo of Anne Plamondon and Peter Chu; and Christopher House's dynamic Echo, in which ten dancers from Toronto Dance Theatre inhabit a world of beautiful creatures, dark angels and lost souls.
.
Compagnie Hervé Koubi: What the day owes to the night
April 25, 2017
French/Algerian choreographer Hervé Koubi breathes dynamic life into a compelling quest for identity in his piece What The Day Owes To The Night. On stage, 12 men stand idly in a line then suddenly explode into athletic, muscular, and untutored movement. Freewheeling energy erupts across the stage in broad, physical gestures, gravity-defying leaps, and powerful gymnastic shapes. Koubi's "brothers" join together in an intricate dance that celebrates the ties that connect us all. Compagnie Hervé Koubi makes its NAC debut.
SERIES C (Three productions in the NAC Studio)
Lisbeth Gruwez: AH/HA
October 6-8, 2016
Flemish choreographer/dancer Lisbeth Gruwez is emerging as a prominent and original new voice in contemporary dance due to her quirky and inventive creative works. In AH/HA, she collaborates with sound artist/artistic partner Maarten Van Cauwenberghe, where she explores the mechanics surrounding laughter. Five dancers, including Gruwez begin to laugh – silently, emphatically, raucously, and timidly. The language of the body laughing – slapped thighs, the torso shaking helplessly – becomes a captivating and unifying dance. Lisbeth Gruwez makes her NAC debut.
Alessandro Sciarroni: FOLK-S Will you still love me tomorrow?
February 9-11, 2017
Italian choreographer and rising star Alessandro Sciarroni uses a Bavarian/Tyrolean folk dance as a departure point for a choreographic practice studying time. Out of context and repeated almost mechanically, the dance becomes hypnotic. We cling to the predictable, recurring rhythm, connected more through sound than through vision. We find ourselves rooted firmly in the present, mesmerized participants in a percussive tide. Alessandro Sciarroni makes his NAC debut.
Compagnie Virginie Brunelle: New Work
April 6-8, 2017
AN NAC DANCE CO-PRODUCTION
Virginie Brunelle is an exciting young choreographer at the forefront of the Montreal dance scene. With this new creation, she offers a poetic work that is sometimes romantic, sometimes crude, but always informed by her ongoing investigation of human relations. Here, she explores our connection to each other, a link that can never be truly broken, one that leaves behind traces, residue, a memory. Compagnie Virginie Brunelle was last at the NAC in 2013 with Complexes des genres.