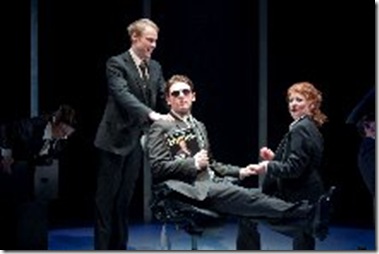 Photo: Andrée Lanthier
There's a terrific moment in the National Arts Centre's production of Enron when we watch a succession of smaller and smaller containers being manipulated in order to demonstrate the art of corporate fraud.
The manipulator is a talented numbers geek named Andy Fastow, played with slicked-down hair and an excess of smarm by Eric Davis. He's an anxious minion who yearns to be "somebody" in Enron — that's the notorious Texas energy corporation that came to typify the worst excesses of corporate crime after its 2001 bankruptcy revealed that its purported $100 billion in revenues didn't really exist.
Fastow, the inventive company lapdog who rose to become Enron's chief financial officer, was responsible for conceiving the legerdemain that made the hoax possible — hence, this brilliantly staged scene in which this fawning fraudster uses the containers to demonstrate the art of creating shadow companies in order to conceal Enron's growing debt.
His audience is an attentive Jeffrey Skilling, Enron's president, a deceitful opportunist who will insist to us later in the evening that he's not a bad man, that he's simply a guy who wanted "to change the world" — and what, he seems to be asking plaintively, is wrong with that? Actor Dmitry Chepovetsky invests the character of Skilling with both a boyish bonhomie and the aura of a confident snake-oil salesman, a guy whose child-like belief in his own mythology and invincibility proves contagious when it comes to encircling himself with true believers.
Skilling, in the words of Lucy Prebble's savage and witty play, was the man behind "the corporate crime that defined the end of the 20th Century." What also comes through in Chepovetsky's mercurial performance is a sense of entitlement — a belief in his mission to commit corporate fraud and thereby to assert the legitimacy of his vision of a marketplace free of any kind of government regulation. Skilling's logic may be less than specious — but no matter. In his mind, his mission is just.
True, there's growing desperation as the house of cards shows signs of collapsing, but in our final sighting of Skilling, Chepovetsky shows us an international crook more bewildered than broken ("how can something be worth a million dollars in the morning and nothing by afternoon?") and a man convinced that history will ultimately vindicate him. Ironically, however, Chepovetsky also allows us to glimpse Skilling's essential banality, so we're left asking — how did corporate culture allow a guy like this to wreak such havoc?
The stellar work of Davis and Chepovetsky is augmented by other fine performances. Joey Tremblay oozes facile southern charm as Kenneth Lay, the other key figure in Enron's unholy triumvirate of corporate criminals. And Petrina Bromley — her poised and cool demeanour concealing a festering fury — is splendid as Claudia Roe, the driven executive who has been Skilling's rival in the race to the top.
The NAC's current English theatre company finally gets to display its true quality with this offering. And the actors owe a great deal to Alberta director Ron Jenkins who is giving local audiences as good an ensemble production as you will find anywhere. Playwright Lucy Prebble has delivered a richly entertaining cautionary tale about a corporate crime which left 22,000 people jobless and thousands of shareholders penniless. And one of its most striking attributes is its success in bringing clarity to the complex fiscal shenanigans of Skilling and his cohorts. But as a theatre piece, Enron is also striking for its audacity: rapid scene changes, cheeky vaudeville turns, ticker-tape projections and masked creatures who come to symbolize some of the murkier byways of corporate practice.
We can thank the quicksilver brilliance of Jenkins's direction for the over-all vigour of this production. But this is, of course, a shared triumph: there are the actors, many in multiple roles, to be applauded as well as the contributions of Brian Smith (sets and costumes), Michael Walton (lighting). Matthew Skopyk (sound), Laura Krewski (choreography) and James Nesbitt (video design). Bouquets to all!
Enron
By Lucy Prebble
National Arts Centre Studio to March 1
Director: Ron Jenkins
Set and costumes: Brian Smith
Lighting: Michael Watson
Sound: Matthew Skopyk
Choreographer: Laura Krewski
Videos: James Nesbitt
Cast:
Claudia Roe/Board Mouse/Trader…………………….Petrina Bromley
Lawyer/Board Mouse/Trader/Raptor etc……………..Christine Brubaker
Jeffrey Skilling………………………………………..Dmitry Chepovetsky
Board Mouse/Trader/Analyst etc. …………………… David Coomber
Andy Fastow/Funeral guest…………………………..Eric Davis
Board Mouse/Skilling's daughter/Raptor etc…………Leah Doz
Trader/Arthur Anderson/Lehman Brother etc………..Sheldon Elter
Trader/Journalist/Court Officer etc…………………..Quancetia Hamilton
Board Mouse/Trader/Raptor etc………………………Eliza-Jane Scott
Ken Lay/Lehman Brother etc…………………………Joey Tremblay