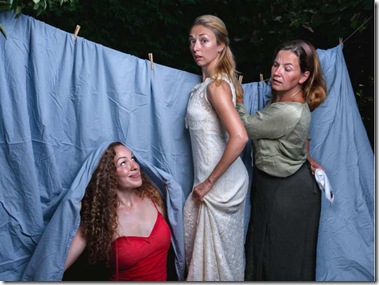 Photo: George Salhani.
Paula Vogel's Desdemona: A Play About A Handkerchief isn't as clever as it thinks it is.
It emerges at the Gladstone as some sort of muddled feminist retelling of Shakespeare's Othello. In the process, it turns the original tragedy on its ear, presenting Othello's wife, Desdemona, as some kind of whore who has slept with just about everybody in town and who is turned on by phallic symbolism.
This, we are told, is necessary to fulfil her quest for independence in a man-dominated culture.
Desdemona also finds she enjoys flagellation — or so we are led to believe as she turns her bottom up for a bit of strapping, administered in this production with ludicrous delicacy by her lusty pal, Bianca, who has a suggestive leather belt around her waist, where it has been conveniently placed in anticipation of carrying out these delicious honours.
What we're getting here is Vogel's attempt at an ironic back story to Shakespeare's tragedy, set in a laundry room in the palace where three characters — Desdemona, Emilia and Bianca — give vent to their neuroses and their sexual proclivities. Tom Stoppard did something similar, with far greater skill and wit, in Rosencrantz And Guildenstern Are Dead, a play in which two minor characters from Hamlet struggle to make sense of the greater tragedy happening around them. But Vogel doesn't even attempt to match the cunning counterpoint brought off by Stoppard, a playwright wise enough to respect Hamlet as his continuing reference point.
We don't see any of the men in Vogel's play. Not Othello, although he makes an invisible appearance at the door for the purpose of striking Desdemona in the face in anger. Not Emilia's husband, Iago, the evil driving force of the original play, although the women exchange tittering gossip about his sexual abilities.
The fatal handkerchief that ultimately sends Desdemona to her doom at Othello's jealous hands still makes its appearance in the play. Indeed, it opens with Desdemona frantically flinging laundry about in an attempt to recover the object that might suggest proof of her infidelity. The laundry room setting is presumably designed to have a levelling effect on three characters of different classes and sensibilities. But at the Gladstone, much of this seems destined to have a sleep-inducing effect on audience members. It's one of those evenings that seems interminable despite a running time of less than 90 minutes.
There admittedly is a problem with Shakespearean plays in which the female characters are given no real voice. It has encouraged academics to ramble on at length about it and contemporary directors and actors to confront it and try to deal with it. Paula Vogel can't be faulted for looking at a traditional culture in which men treat women as sex objects and offering us a reverse situation in which women treat men as sex objects. But is Othello really a credible starting point for such a thesis?
Its validity is not evident in Bronwyn Steinberg's lumbering production for the Three Sisters Theatre Company. Stylistically, the evening is a mess. The script consists of some 30 brief takes that are more or less naturalistic apart from a couple of embarrassingly staged attempts at farce — but they are punctuated by heavily stylized intervals in which the performers clumsily make like contortionists. The evening has no real flow, no continuity. We get a series of blips.
We must also endure the spectacle of three talented actors trapped in inhospitable circumstances. At least, that's the impression given by the often dogged work of Elise Gauthier, Robin Guy and Gabrielle Lalonde.
As Desdemona, Elise Gauthier seems too emotionally contained to be completely believable as the voluptuous wench who still fills in occasionally at the local brothel, fondles a hook pick as though it were a male organ, and exhibits sensuous satisfaction when Emilia washes her feet. There's still more starch than substance here, and what does come through are this Desdemona's most unpleasant traits — beginning with her selfishness and self absorption. But she is terribly hoity-toity, a sort of upper-class totem. Meanwhile, notwithstanding her declaration of sexual freedom, we surely need to be reminded more firmly of the crowning irony that she is still dependent on men.
Perhaps, however, Vogel was more interested in offering stereotypes instead of real characters. After all, her script does call for three separate and distinctive accents from her performers. At the Gladstone, Gabrielle Lalonde carries this requirement to unfortunate lengths: her Bianca exudes a brassy sexuality in her body language, but her Cockney accent is so extreme as to be incomprehensible.
Of the three players, Robin Guy offers the most complete characterization as Emilia, Desdemona's personal attendant and confidant. She's the one who is most morally conflicted, she's the one who sees the wider picture. She's riddled with anxieties, but her warm and sympathetic performance retains some link to the conflicted Emilia of Othello — to the woman who once said: "Have we not affections — desires for sport and frailty, as men have?"
But this portrayal is not sufficient to make the evening work.
The character of Desdemona — once descried by critic J.C. Trewin as too often a wilting lily in performance — can provide fruitful subject matter for feminist analysis. But, for all Paula Vogel's pretensions, it doesn't happen in this production. German writer Christine Bruckner did it more than two decades ago in her book Desdemona — If Only You Had Spoken. The volume imagined what would have happened if the wives and companions to well-known men in history and mythology had spoken out. Women like the Virgin Mary and the wife of Martin Luther — women like Desdemona. Eleanor Bron's English translation of these monologues has sparked successful stage productions overseas, Perhaps, the Three Sisters theatre company would have been more successful with this material.
Desdemona: A Play About A Handkerchief
By Paula Vogel
A production of the Three Sisters Theatre Company
Gladstone Theatre to Sept. 24
Director: Bronwyn Steinberg
Designer: Nancy Anne Perrin
Lighting: David Magladry
Sound: Robin Guy
Desdemona: Elise Gauthier
Emilia: Robin Guy
Bianca: Gabrielle Lalonde