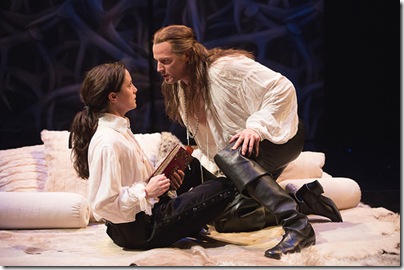 Jenny Young and Graham Abbey. Photo Cylla Von Tiedemann
STRATFORD — She bursts onto the stage of the Tom Patterson Theatre with cyclonic force, a female fury in the elegant garb of a male. But don't assume we're getting another variation of a trouser role here.
This not a case of actress Jenny Young simply dressing up like a man. She's not just making like a 17th Century tomboy. It's a moot point as to whether she voraciously inhabits the character of Sweden's endlessly fascinating Queen Christina or whether Christina has taken occupancy of her. The bottom line is that she seizes our attention immediately as — all attitude — she starts berating a hapless court booby named Karl Gustav for his attempts to ravish her.
What comes through here with burning intensity is the forthright young queen's revulsion at the thought of any intimate contact with a male. Indeed, as Young's Christina spells out details of Karl's attempted seduction, we wouldn't be surprised if she upchucked before our eyes at any moment.
So yeah, we get it. She doesn't dig guys. And she definitely doesn't intend to placate Sweden's starchy Lutheran court by agreeing to marriage.
Such is the most forceful thread running through Quebec playwright Michel Marc Bouchard's Christina, The Girl King, which is having its English-language premiere at the Stratford Festival's intimate Studio Theatre. The play is getting a humdinger of a production thanks to its Calgary-based director, Vanessa Porteous, and her two dazzling designers — Michael Gianfrancesco (sets and costumes) and Kimberly Purtell (lighting) whose astounding visuals constantly bewitch with their shimmering, fathomless intensity.
The look of the show plus the excellence of the performances are reason enough to rush out and buy a ticket. But one question nags: is this a case of production values transcending the material?
There are times when the dialogue really crackles in Linda Gaboriau's English translation. When Christina speaks with unconcealed disgust about the "bloody business of childbirth," you know where she's coming from. We also get the message when she speaks in riddles — particularly after we've been exposed to her lust for Claire Lautier's Countess Ebba Sparre. "Sometimes I feel like devouring a whole leg of mutton," she abruptly announces, and somehow we feel she's not really thinking about the dinner table.
Bouchard is effective at defining character through language, especially when it comes to some of the grotesques inhabiting this dysfunctional court. Patricia Collins, a chalk-faced gorgon, is wonderful in the role of the malevolent dowager queen. Indeed, Collins's sociopath presence gives the production its creepiest moments while also revealing the playwright's penchant for bits of ghastly humor. "Have you any idea what it's like to be an aging queen?" she complains at one point, and, given the way she looks, that's sufficient to conjure up a new set of unmentionable images.
When it comes to liveliness of character and incident, Christina offers a high enjoyment quotient. Furthermore, provocative though it may be, its aim is never pure sensation — although there were a few gasps in the audience the other afternoon when it became clear that Ebba Sparre's strip routine before the eyes of a mesmerized Christina was not going to stop at the removal of her outer garments. There's no denying the eroticism of the true moments of intimacy — but with them comes delicacy of feeling and conflicted emotions.
Whenever Jenny Young is on stage, you can't take her eyes off her. She is a commanding presence, both physically and intellectually. This Christina's quality of self-sufficiency is palpable; so is her capacity for burning anger when challenged or restrained.
However, the irony is that the role of Christina, itself suffers from the constraints of a play that essentially strips everything down to a rather simplistic narrative thrust: Christina yearns for a same-sex relationship, and her refusal to marry a man leads to her abdication from the Swedish throne. That's it.
To be sure, Bouchard does attempt to throw in bits of complexity. French philosopher Rene Descartes, solidly portrayed by John Kirkpatrick, arrives in court to satisfy her thirst for knowledge. Political and religious intrigues continue to swirl about Christina as she pursues her single-minded mission for personal fulfillment. These auxiliary elements raise possibilities for a different kind of play — there are, for example, moments when Christina's metaphysical discussions with Descartes sparkle with intellectual vigor — but they don't really integrate here. Bouchard is tossing more balls into the air than a play like this can manage.
So let's simply enjoy the story line that matters most. It could be argued that Jenny Young's Christina is more in tune with this century than Sweden in the 1600s, but that's not surprising, given that the script is viewing 17th Century history through a 21st Century prism.
So we have to accept that Christina, The Girl King comes to us with a contemporary agenda. Young's marvelous performance has its own angry reality but even she can't conceal the fact that as a character, Christina is also conceived as a symbol and a portent of a better future. Still, she's a little too neatly boxed and wrapped to serve a script that prefers to ignore   inconvenient complications: for example, evidence of a sexuality far more ambiguous than this play suggests; a conversion to Roman Catholicism; the messiness and violence of her later life.
Young is surrounded by an array of fine performances: Claire Lautier, touching and troubled as Ebba Sparre; Rylan Wilkie, endearing in his haplessness as the blundering Karl; Graham Abbey hilarious as a dopey count who has his own futile designs on the queen; and Wayne Best, suitably frazzled as Christina's long-suffering chancellor; finally a mute Elliott Loran, truly unsettling as the old queen's boy toy.
(Christina, The Girl King continues to Sept. 21. Ticket information at 1 800 567 1600 or stratfordfestival.ca)