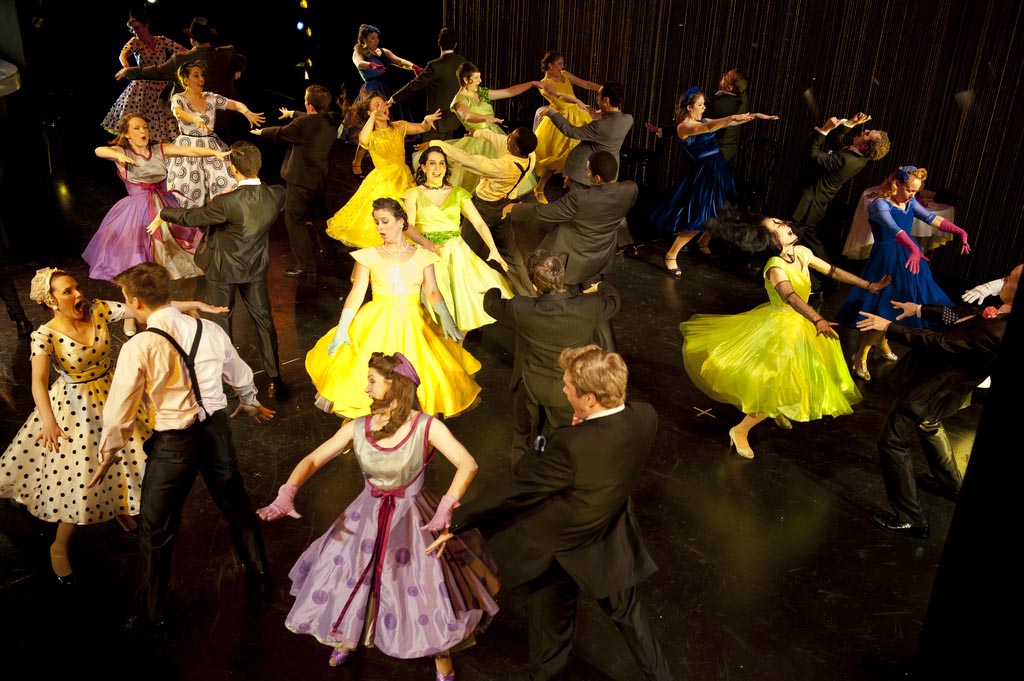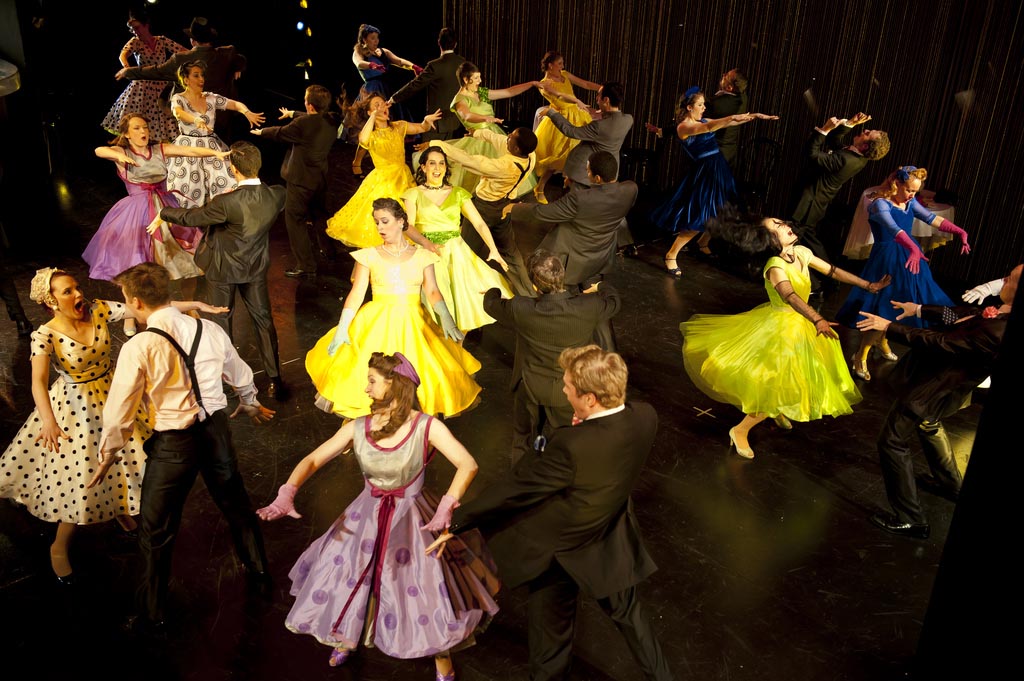 Café Variations. Photo. Paul Marotta
Café Variations arrived in town with lots of promise – a book by experimental playwright Charles Mee, directed by his frequent collaborator Anne Bogart, and music and lyrics by the Gershwin brothers. But despite this seemingly winning combination, the show never quite coalesced.
Rather than an exploration of plot and/or character, the play is an investigation of and disquisition on the problems, joys, and fears of romantic entanglements – with song and dance thrown in. The cast of thirty, composed almost equally of Bogart's SITI Company actors andEmersonCollegemusical theatre students, varies in musical and dance ability with several students outshining the professionals.
The actresses' costumes, designed by Caitlin Ward, are colorful, Brian H. Scott's shifting lighting and Neil Patel's simple scenery lovely to behold. Upstage is a glittering beaded curtain in front of which hangs a shimmering modernist chandelier in a similar style. Recessed ceiling bulbs provide more light.
Bogart's thematic concept was too ambiguous for this reviewer. The characters – if they can be called that – are in sets of three, perhaps to represent different aspects of the same person or more likely, given the play's title, a variation on a type. This idea is more successfully and consistently carried through with the female personages than the male. Trios of actresses wear similar 1950s dresses (and matching hats) of the same color – royal blues, mauves, greens, yellows, and whites with large black polka dots – differing only in small details. The same color scheme is carried through in the lighting.
A medley of Gershwin tunes starts the show. Waiters dance as they set up the tables and chairs in the café. Dance, movement, and gesture are the through line of the piece. When sitting, the performers often use their arms and upper bodies rhythmically.
Customers enter and sit. Women try to engage the men at their table in conversation and vice-versa. People leave and another group enters, conceivably to give a sense of the passing of time. They talk, they sing, they dance. Each vignette portrays a different stage of a relationship, but almost always en masse. When one couple flirts, others do as well. In another scene, the women attack all the men physically without provocation. An instance of reverse misogyny?
Dialogue is drawn from a number of Charles Mee's previous works, some set in cafés. An uncomfortable gap exists between Mee's sometimes philosophical writing and Ira Gershwin's lyrics.
Still, there are refreshing moments such as the chorus's singing of "Embraceable You," a few of the dance numbers, and the pleasure of seeing Emerson's talented students working in harmony with the professional company. Emerson and Anne Bogart gave the students a rare opportunity. They are all to be congratulated.
Cafe Variations
a world premiere
The World on Stage at the Cutler Majestic in Boston
ArtsEmerson: The World On Stage
PRESENTS THE WORLD PREMIERE OF
CAFÉ VARIATIONS
At the Cutler Majestic, Boston,MA
Music & Lyrics by George Gershwin & Ira Gershwin
Book by Charles L. Mee, Jr.
Directed by Anne Bogart
Arranger/Orchestrator Rachel Grimes
Music Direction Jon Goldberg
Choreography Barney O'Hanlon
Scene Design Neil Patel
Costume Design Caitlin Ward
Lighting Design Brian H. Scott
Sound Design Stowe Nelson
CAST
Henry A—Tom Nelis Tilly A—Deborah Wallace
Henry B—Devin Holloway Tilly B—Abby Goldfarb
Henry C—Mitchell Canfield Tilly C—Hallie Brevetti
Peter A—Stephen Duff Webber Edith A—Ellen Lauren
Peter B—Braden Joyce-Schleimer Edith B—Hannah Tehrani
Peter C—Maximilian Sangerman Edith C—Mariah MacFarlane
Harold A—Barney O'Hanlon Ya-Ya A—Akiko Aizawa
Harold B—Jake Stempel Ya-Ya B—Lily LaGravenese
Harold C—Michael Niederer Ya-Ya C—Anna Harissis
Raymond A—Gian-Murray Gianino Nanette A—Sarah Mitchel
Raymond B—Brock Bivens Nanette B—Lauren Chapman
Raymond C—Matthew Koplik Nanette C—Gigi Watson
Andrew A—Leon Ingulsrud Lucia A—Melody Madarasz
Andrew B—Andrew Frank Lucia B—Chelsea Williams
Andrew C—Jayson James Lucia C—Kaitlyn Frank
April 24, 2012